February 23rd, 2015
The first post, The Happy Baker, was posted on Qala Bist (.com) on October 6, 2007.  Among other things, the website was to be about Afghanistan, as the name implied.  That was a long seven years ago.  Much has happened since then.
I have posted quite a bit about Afghanistan since 2007.  However, I haven't written a lot about the time that I spent there.  Most of the words and pictures about the country, from the country, are from my father, perhaps like a diary of his of sorts.  Even the posting of those letters and those pictures is not yet complete.  It is as though I barely have started.
Afghanistan, specifically Qala Bist pictures, Hoover Dam, Trinity Site / Atomic Cafe, Lee Harvey Oswald and the Kennedy limousine thing, and a few things connected to Kansas are what people seek when they visit this site.  It really is like the Wizard of Oz, and why the cow jumped over the rainbow – it was so not the moon.  I've linked the Israel Kamakawiwo'Ole song for maybe the 50th time.  Maybe someone will really listen this time.
The Wizard of Oz was released on August 15, 1939.  The movie was in full color.  Initially only about 12 million people, one in every 10 Americans, saw it.  The black & white war (film footage) coming out of Europe, starting just two weeks later, would have a much bigger draw.  The real Germany was so into color, even though the 'reel' Germany was so black and white.  This is maybe my 86th post about the distortions made possible by the media.
Am I getting through (to you) yet?  A black and white movie about rainbows just wouldn't make it.  A war movie about 'a wonderful world' just wouldn't make it.  That brings us full circle to the 35mm color film covering Afghanistan.  It's more about Oz and Dorothy and a Rainbow than it is, or ever was, about war.  The media promotes such a different meme when the topic turns to Afghanistan.
So many of the people I read are totally giving up on America.  America is not about being, or bringing, a wonderful world anymore.  It is not about pure food, pure minds, pure water, pure thoughts and pure deeds.  The 'homeland' never heard the phrase, "in purity there is security."  We seem to live in a world where most people see 'pure' as just another 4-letter word.
Today's Afghanistan is so unlike the Afghanistan that I knew.  In my Afghanistan animals were everywhere, and were usually making themselves useful.  It was not just a land of 'cars & trucks' moving everyone everywhere.  Airplanes and aircraft were few.  I'm repeating myself.  You really don't get it, you really don't care.
How can one have a movie without mechanization, a war movie without the automatic machines?  If Pablo Picasso were painting today the picture of Guernica would not have the animals, modern movies and modern war have taken the animals out of life and life out of the animals.  The planet is rapidly dieing.  The only animals left are to eat, or are pets that eat the animal remains of the other animals that are left.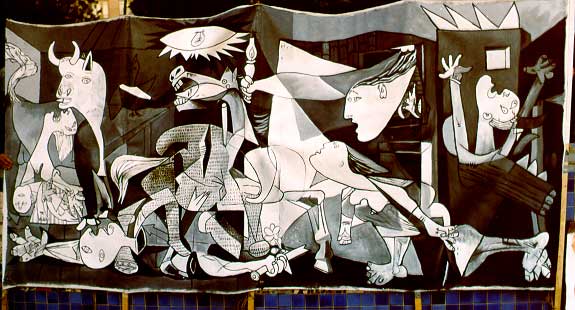 War creates a panic about procreation.  Insecurity makes the populations surge.  States start it.  They see people as money, large populations as strength, over-population is seen as strategic reserves.  This consciousness (really lack of consciousness) trickles down to the weak minded and the most insecure.  Those populations vastly increase to the detriment of the many, the few, and the special.  Afghanistan, like Oz, was once very special.
To 'give up' is to lose hope of an 'ever again.'  It is to believe in a 'never again.'  Did I mention that in America (and elsewhere) the middle class is dead?  I don't just mean economically, and politically.  Politically the middle class is useless in the land of the rich.  The only value the middle class ever had was middle class values, middle class involvement, the middle class participation in things.  That is over and gone, gone forever.  The middle class has been bought out, was sold out, has sold out to the poor and to the rich.  The middle (center) can't hold because there is not a center anymore, America has been gutted and fracked and swindled and there I go being all poetic about it, about the end of a world.
A civilization in collapse is not unlike a civilization in retreat.  All civilizations begin with a 'hope,' with the tangible belief in a 'getting better,' as in things will get better.  'Better' is defined by the values of the civilizations founders, it's what they see as 'good.'  The new civilization is founded on a resurgent technology, electronic things that distract, inform, and amuse – a virtual unreal reality.
For the last thirteen or fourteen years we've lived with civilizations in collision.  An old world of animals and life forms and ideas and abstractions and great diversity and dreams was confronted by a technologically driven new materialism, a mind control method and apparatus gone viral.  The viral thing won.  Thank Snowden, thank Apple, thank Zuckerberg of course, thank Google.
'Net Neutrality' is code for every idea presented on the web is essentially equal.  There is no value judgement, or quotient, to equal.  All ideas are just an opinion, or the truth – you decide.  There is no life behind anything to say, just pictures (maybe) and an illustration or two (sometimes).  It is dangerous territory.  Image is everything, substance is not even there.
Being 'connected' (connectivity) is the buzzword that leaves unanswered, "Connected to what?"  A smartphone cannot connect you to the vibrations of the earth.  An earbud cannot make you feel.  Twitter is no substitute for a real conversation which in reality requires flesh and blood, a presence, not just a voice on a phone that says, "I wish you were here, I wish you were near."
The defeated civilization and civilized persons will retreat into reality, leaving the virtual reality landscape largely uncontested.  The new life will involve (evolve) into becoming connected with those that are unconnected.  The virtual reality is based on the idea of 'what is is what was.'  The new life will be centered on 'past forgetting,' on leaving all the scaffolding behind.  Sometimes it is just really time to start over.