July 4th, 1953
INCLUDING A MUCH BIGGER ROAD MAP OF THE WESTERN UNITED STATES
The following map is from a circa 1953 CO-OP SERVICE gas station map.  This map was used by Lloydine Clayton on her trip to and from the Backlund Farm in Lasita, Kansas in the summer of 1953.  Lloydine's mother, Hemme Backlund Martin, was living on and running the farm at the time.  On this trip were "Martin" Clayton, Kenneth Clayton, and Donald Clayton (an 'old' age four).
The farm still had it's windmill as the only source of running water.  The outhouse was still in operation; there was no indoor plumbing.  The telephone (that had a crank to call), barely worked.  During storms there was no electricity.  The surrounding roads were still dirt, and after a storm, were mud.  All that having been said; there was still a remarkable quality of life inherent to living on the Kansas prairie.
The big red line coming from the west through Clay Center is U.S. Route 24.  On the map it looks like an easy drive to Lasita, then turn left, go north, to the farm.  The problem was that north of Lasita the road was dirt and very bad.  The "best" entrance to the farm was from the north, through Green (Kansas).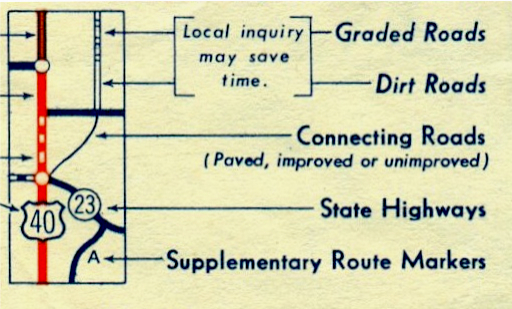 Reading the above "line descriptions" included on the map sometimes helped.  The road north from Lasita was definitely "unimproved".  "Two lines" for "Dirt Roads"?  Some maps can be so misleading.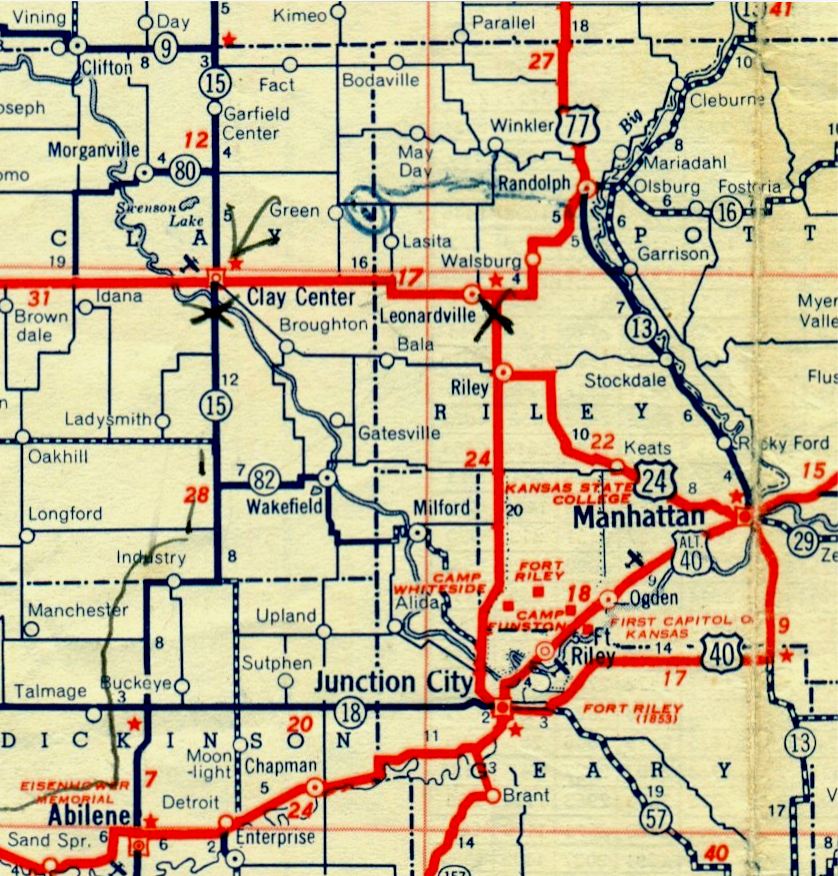 The following road map of the "western" United States gives one an idea of what this summer trip entailed.  There were few freeways then, most travel was on paved two-lane roads, with an occasional extra lane to use to pass.
The trip began in Kings Beach at Lake Tahoe, which is on the California – Nevada line (north shore).   The family had been in Las Vegas, with a visit to Boulder Dam, earlier in the summer.  The "trip out" went northerly, through Salt Lake and then down to Denver.  We drove briefly to Kansas City at one point, from the farm.  Hemme rode with us going back.  It was a 1950 Ford Station wagon (woody), LOF glass.  We went west through southern Colorado, over to Zion (National Park), through Zion and the tunnel, then again north to Ely and "back west".  Somebody should have marked the map.
A few weeks later I was in Los Angeles, my mother (Lloydine) and Hemme were in Long Beach (California).  Then back to Tahoe, through Los Altos and Sacramento just in time to move to Carson City (Nevada).  Every summer should be so much fun.
And (oh, yes) every mile was in a car without a car seat, booster seat, or seat belts.  No "restraining devices" whatsoever, no padded dash, no soft safety knobs or "child proof" locks on the easily opened rear doors.  No air bags, even.  And there was not one mile of divided highway.  I wonder how I survived (or maybe I don't, but you do).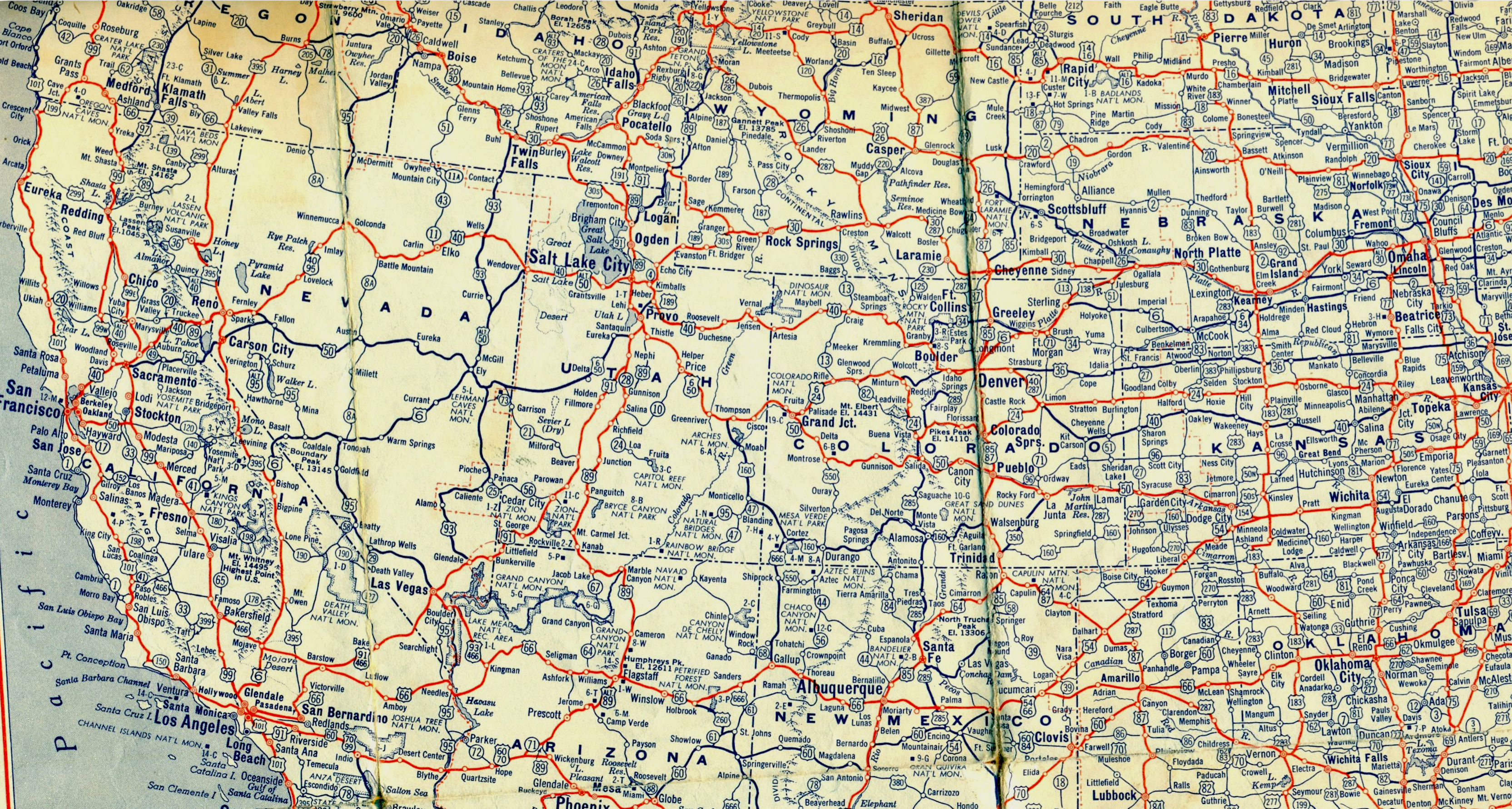 ["Map of Riley County (area) Kansas" Post written on May 11, 2011 @ 07:45 ZLT / GMT / Zulu / GMT / UTC]