January 1st, 1957
~ A boy, his brother and his dog.
I'm not sure (yet) of the exact date of this photograph taken (probably) in January of 1957.  It was just after Christmas, the red parka (really wind-breaker) was a gift.  The dog's name is Jamie; he is/was an Irish Setter.  The taller person is (now was) my brother, Ken Clayton, Kenneth Clayton of Carson City.  He was a much better skier than I was, but we both took the bus  that the Carson Comets ran up to the slopes.  Coming down we (meaning everyone on the bus, except the driver) sang "99 bottles of beer on the wall".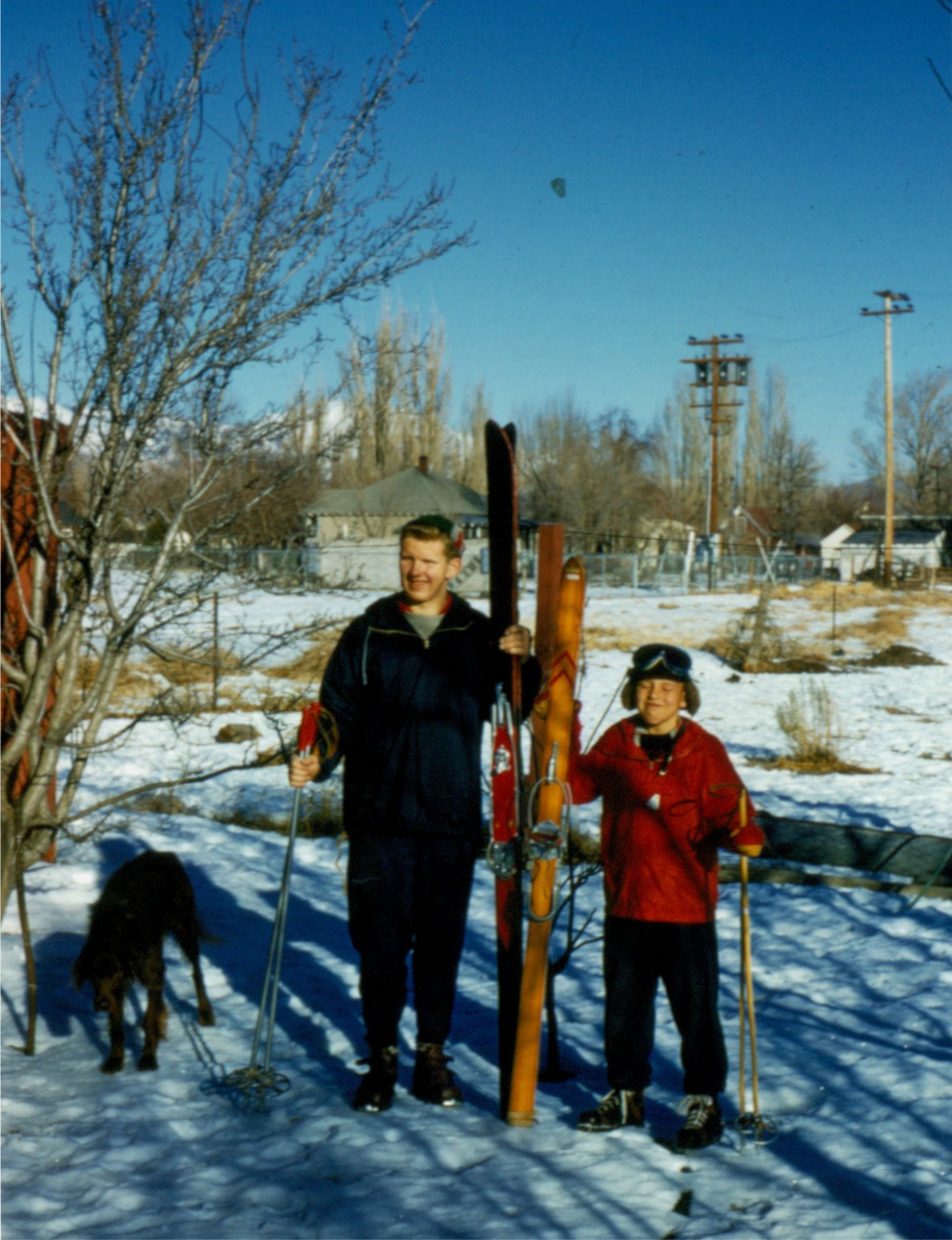 The address of this picture is 405 North Roop Street, which still exists.  What does not exist is the old barn turned garage to the left, and the empty field behind us (which is looking north by northwest).  I am age eight (8) in the picture, on break from attending Fremont Elementary School (just down the road) (meaning a walk south on Roop Street, past the National Guard trucks, but just before the Nevada State Children's Home (orphanage)).  Kenneth Clayton is not quite 15, which means he is fourteen and change, the change coming in February (on the second), which of course is his birthday.
My ski poles are (were) bamboo, in case you are wondering.  And those aren't "safety bindings" either, a fact you should know.  No wonder my dog looks a bit worried.
So if the sun rises in the east the shadows say it is early morning.  You don't get dressed for sking unless you go ski.  Deduction – it is Saturday or Sunday as the ski club before mentioned only had buses on weekends.  Now to check the (old) weather reports and find out when it snowed and the exact date should be mine.  The new digital cameras really do make life so much easier.
As I remember it, the photographer was my mother, Lloydine Clayton; most (not all) of the family type pictures taken were hers.
[First posted:  2011.02.23 / Wednesday – Snow and sports in Carson City]  Revised: 2011.02.23