October 31st, 1958
This is Post #32 in the Series "Going to Afghanistan".
________________________________________________________________________
AIR LETTER
Addressed to:
Mrs. Fred W. Clayton
405 N. Roop St.
Carson City,
Nevada U.S.A.
Senders name and address:
F. W. Clayton
USOM / A
Kabul, Afghanistan
________________________________________________________________________
Kabul, Afghanistan
31 October 1958
Friday 10:00 P.M.
My Darlings,
This should be a well organized letter as I have many things to cover.
This evening I had dinner at the Ray Johnsons of The Asia Foundation.  Mrs. Johnson is the most avid ski enthusiast and is seeking my aid and knowledge of ski lifts.  But first things first.
1. Money – I've ordered my check sent directly to the bank thus saving a day or two loss in forwarding which would have been the case this week.  The week of October 14th I sent you a check for $900.00 plus and this check netted $400.00 plus after taking out the $70.00 for the loan.  This makes over $1,300.00 I sent home since I arrived here a month ago tomorrow.  Of this I have committed $433.00 thru five checks.  $250.00 of this is the first installment on the $700.00 commissary deposit.  This should leave you some $900.00 to work with for awhile.  The checks I've written are as follows:
Kabul #1 – $100.00 cash for living converted to Afghanis.  Still have some left after a month.
Kabul #2 – $50.00 United Givers – Pressured into this so gave $25.00 less than last year.
Kabul #3 – $250.00 first installment on Commissary Deposit.
Kabul #4 – Reserved for Board bill @ Staff House.
Kabul #5 – American Embassy for board at Kandahar.
Kabul #6 – MK (Morrison and Knudsen) for Board at Kandahar.
These last two items are reimbursable on travel claims.  Probably in Afghanis.
2. Films – I've sent five (5) rolls counting the one I'm sending now.
3. Ballot – I have not received my ballot yet.  I hope I get it tomorrow.
4.  Skiing – Please send information on rope tows.  a.) Sketch layout.  b.) Range of lengths.  c.) Maximum slope operable  d.) Size and kind of rope used.  E.) Power required – Will Jeep do? – Ken can you get all this pronto?
5.  Brick Plant – Can Al Canton furnish information on the simplest type of brick plant layout and operation?  If brick manufacturer association can furnish this information best get it from Bob Harrington in San Francisco and have it sent post haste, please.  Look in SEOMC roster for Harrington address.
6.  Drug Store – Please ask John McDonald in the new drug store if he wants to set up the first drug store in Afghanistan?  His rotary approach makes him an excellent choice.  Building here is built and space is being saved for American type drug store.  R.G.A. urgently wants this done.  Development Loan Funds available for stock.  Import license will be cleared by R.G.A.  City 200,000 to 300,000 people without like service.  Also three local hospitals plus over 600 Americans.  Homer Angelo and Ralph Krause could advise.  Could be a wonderful opportunity.  New law just confirmed guaranteeing foreign investments.
Last Monday I went to Kandahar to meet Mr. & Mrs. C.W. (Pete) Allen of S/Ind. (Science and Industry) I.C.A. / W. (International Cooperation Administration / Washington) and to look over the jobs in Kandahar.  The Allens arrived from Teheran at noon on Tuesday and the three of us returned to Kabul on the 10:00 A.M. flight Thursday.  This noon the Allens left for Karachi.  The Allens are our kind of folks and are going to be a fine addition to the Washington scene.
While in Kandahar I saw Burris and Bennett who are there working on the Industrial District.  I inspected power projects and generator sites, three of them.  There are many problems in their activity that need immediate attention.
I also inspected the Kandahar International Airport (KIA) job.  The C.A.A. (Civil Aviation Authority) inspector is about to make as much a mess of this job as my predecessor made out of Mingaladon.  The two cases are almost identically parallel.  This one is headed toward an international crisis if I can't get get some people back in on the track.  Damn the hot headed, short-sighted selfish impractical people in responsible jobs!!  I hope I got it back on the track temporarily!  The C.A.A. inspector is guilty of rank interference in the contractors management and is a "bull in a china closet".  More of this later.
Kandahar is very picturesque.  We saw over twenty camels in one herd right on a main street of the town.  The bazaars are loaded with fruits, vegetables, grains, nuts and vegetables.
Here I'll comment on the people of Afghanistan.  In my opinion the Afghans are some of the finest people of this earth.  They are justly proud of their history and of the fact that they have held off both the British and the Russians for centuries.
They are willing able workers.  If they appear lazy and uncooperative one must remember that they have illness, inadequate diets, not sufficient warm clothing or housing and that they have been out working and earning a living since age (8).
Only a highly skilled, industrious and intelligent people could bring under irrigation the amount of land they have in an arid region.
The y have squeezed almost every drop of water out of this land and put it to use.  They terrace the hills and run ditches around them.  They dig krais (in Iran – ghnats) or underground tunnels into water bearing alluvial fans to collect the water and lead it to rich soil.
They make excellent use of their indigenous materials in their construction especially considering the shortages they face such as fuel and lumber.
These people are generally happy and helpful.  I like them.
Going to Kandahar and back I rode in the cockpit of the plane about 50% of the time.  Thus I saw the road and analyzed most all the critical spots.
I visited the Arghadab Dam about thirty miles from Kandahar.  On the way back I saw my first hyena in the wild.  This was a real thrill.  Had I had a rifle I might have had a fine trophy. – stripes and all.  This animal was huge and fierce looking.  More than a match for any dog or wolf.
Snow leopards are here to be hunted in the high mountains.  Also Marco Polo sheep.
Guns and ammunition are not available.  I may want a "308" (often referred to as a "thirty-ought-eight") sent out both for hunting and protection from animals in remote regions.  Embassy people have import privileges.  Such guns are sold at discount in Washington D.C.  I'll investigate all the angles from here.
Ken I hope you get to go hunting at least once and that you get a deer.
It is now mid-night so I must close as tomorrow is a busy work day.
Lloydine my Beloved if you want why don't you go to Phoenix.  It would be a lot of fun for you and you would be more than welcome.  I must write your Mother.  I'll try soon.
Ralph Krause left for India yesterday.  I got your letter too late to give him Homer's message.  I surely miss him.
Seven years ago I lost 31 Oct. and woke up on 1 Nov. to have breakfast on Wake Island.
Good night.
All my love
Your Fred.
________________________________________________________________________
Notes:
This one letter is probably worth a book.  So much for security, Fred can get mad – or maybe he was hoping that someone in Washington would open his mail and get an idea of what was really happening in Afghanistan.  Was Fred the first American to go to Kandahar and come back wanting to buy guns?  His interest was hunting, protection from the animals, not from the Afghans; but we're still talking guns here – rifles – rifles from Washington; and it takes the American Embassy to get them in.  Life gets more interesting all the time.
Fred W. Clayton was the father of skiing in Afghanistan.  He was the first to build and provide the expertise for the first ski area in Afghanistan.  It is a fabulous place to ski and the potential is vast; probably more dollars in it than growing poppies or building pipelines to Pakistan.  He could have figured out everything himself about the rope tow; but Ken loved to ski, so why not let his son get involved and whet his appetite for a future in engineering?  Anyway, Fred was busy with so many things; airports take more time than ski resorts even if the two at some point become connected.
But the mother of skiing in Afghanistan, the person who really deserves most of the credit was a woman – Mrs. Johnson (common name) so I'll have to look up her full name so she can go down in history in her proper place.  Yes, a WOMAN brought skiing to Afghanistan – take that you Taliban, take that you macho male U.S. fighters; a woman's place is not at home or in the mall, but on the slopes and in the backrooms contemplating snowflakes and how to take the high country and use water the first time that it falls for one more thing that's useful – fun not fashion on the slopes.  The first Kabul ski club was "The Moguls", fun and a pun in Afghanistan.  You'll see how this story will progress.
Hunting has always been a Nevada sport.  Big horned sheep, deer, antelope at play.  The biggest horned sheep of all is the Orvis Poli (Marco Polo Sheep) that Kermit Roosevelt went after in the Himalayas; the Hindu Kush is the western Himalayas; higher than even the mountains of Nevada; better skiing, bigger sheep.  Fred did not hunt for sport.  The family ate what he killed; venison in the food locker (rented freezer space) in Carson City.  Eating off the land is what Davy Crockett did, and Daniel Boone, and maybe even George and Martha Washington (or was it slaves that George and Martha lived off of).  The Pilgrims ate off the Indians, the native Americans ate off the land.  The choice is irrigation.
Fred explains to us that there are two types of "irrigation"; one is modern and mechanical – the other is "green" and old.  The Afghans did not build dams.  The Afghans harvested water from the sky, captured it on the mountainsides, in the deserts channeled it for sometimes a hundred miles all underground.  They have done this for far longer than the US has been the U.S.  Terracing is something almost never seen in the U.S.A.  When people run out of valleys they start advancing up the hills.  The higher up the hills the agriculture goes the higher the civilization.  In China and Japan they know this, in India, in South America at times.  In Afghanistan the hills are even higher and the Afghans can go even far higher in the future.  Just wait and see.
The American approach to irrigation is far different.  Americans build dams and divert the water for power and irrigation.  Things are mostly above ground, no ten thousand miles of hand dug tunnels criss-crossing the entire earth.  I'll show you the pictures from the air if you don't believe me about southern Afghanistan.  Dams silt up in time.  Dams block the fish.  In time the turbines fail and the world moves to black and the river goes over the top and that's the advantage of small-scale green irrigation; family farms, terraces not great open culverts and channels.  There's a lot more about water than this; but this is enough for today.
Fred loved to fly.  He loved to fly ever since that first flight to Burma to build the airport there in Rangoon (Yongun) Burma.  Actually the airport was near Mingaladon, a small village outside of Rangoon.  When the Flying Tigers flew out of there the village was still there.  When Fred arrived the village wasn't.  The airport killed the village, two or three thousand years of history gone just to accommodate a plane.  There are two sides of every story.  The question is "for who" is western progress so hot?  Now Fred is up (almost) in the pilots seat, reconnoitering the roads – actually it is just the one road that links Kandahar to Kabul or Kabul to Kandahar – mostly just a sheep trail then, very few trucks or buses, more camels than anything else like it was in the days of Marco Polo as he wandered his way to Kabul and crossed the Marco Polo bridge (the one in Kabul) long before he ever found or described the Marco Polo sheep.
The C.A.A. was the predecessor agency to the F.A.A. (Federal Aviation Authority).  It is and was a U.S. organization.  It was created to help planes fly, fly more safely, benefit from federal funds.  The C.A.A. was instrumental in the growth of airports.  The C.A.A. thought that "landing fields" just were not safe.  Not everyone with a cow pasture or a farm should have their own "field" the CAA/FAA thought.  "This flying thing has to be organized, sites must be chosen to make some people rich and make other people poor."  "We need to organize to be able to take the land (for flying) and take away peoples peace by flying planes overhead all the time" – like when they live under runways – like when there are helicopters or jets always overhead.
So Fred got mad, very mad.  Every governmental and military organization has people like the one Fred describes.  They are ill-informed and arrogant.  They hold positions of authority and power.  They often "gum up the works" or destroy a decade, a hundred years, a thousand years of progress – not western necessarily, but sometimes real progress.  These people take actions that often lead to war.  They are the blind that lead and advise the blinder still.  No one can fathom the damage that these guys do.  Did Fred successfully fix the situation in Kandahar; I ask you today; did he really fix it or did he just really try, knowing that the damage had already been done?
KIA – Killed In Action, KIA – Kandahar International Airport; is there really a difference?  You choose the K-I-A that you feel.
________________________________________________________________________
Note:  Fred's trip to Kandahar was from October 27, 1958 through October 30, 1958.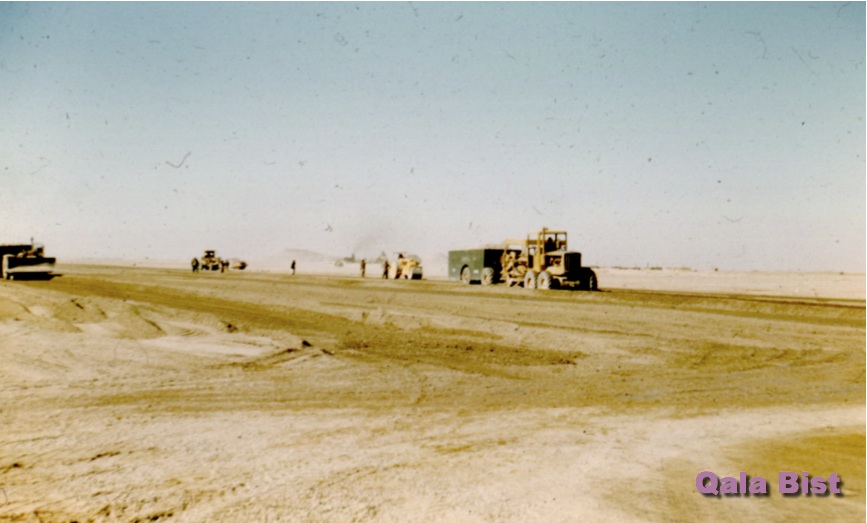 Kandahar, Afghanistan – Kandahar International Airport construction – October 28, 1958.
Photograph taken by Fred W. Clayton – This photographic image is copyrighted by Donald Clayton, all rights reserved – first published 2010 on QalaBist.com.
Kandahar, Afghanistan – Kandahar International Airport – Sign – October 28, 1958.
Photograph taken by Fred W. Clayton – This photographic image is copyrighted by Donald Clayton, all rights reserved – first published 2010 on QalaBist.com.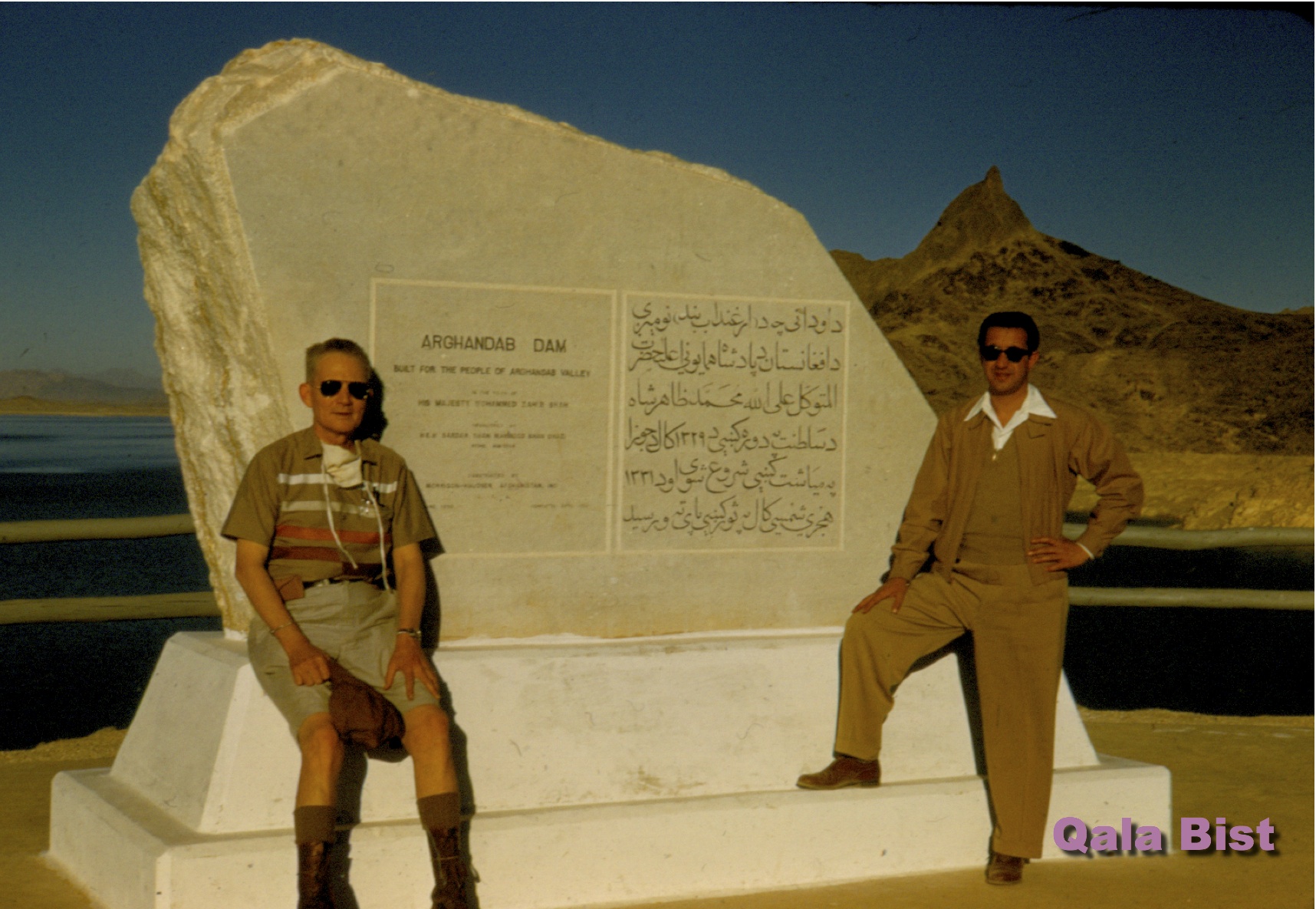 Arghandab Dam, Afghanistan – Dedication stone in English and Pharsee – October 29, 1958.
Photograph taken by Fred W. Clayton – This photographic image is copyrighted by Donald Clayton, all rights reserved – first published 2010 on QalaBist.com.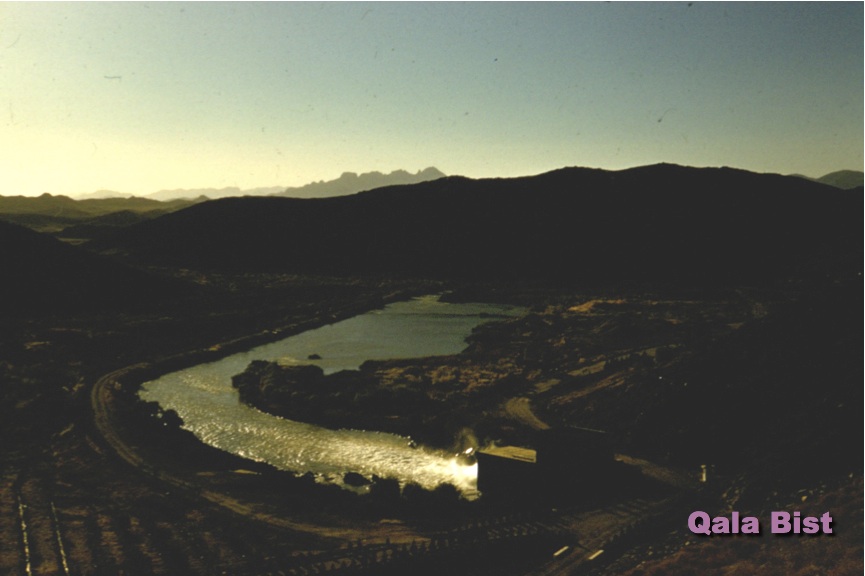 Arghandab Dam, Afghanistan – dam outtake, electrical generators have not yet been installed – October 29, 1958.
Photograph taken by Fred W. Clayton – This photographic image is copyrighted by Donald Clayton, all rights reserved – first published 2010 on QalaBist.com.
[First posted: 2010.04.08 / Please send information on rope tows]
"Afghanistan Central" at Qala Bist.com is linked HERE: