January 9th, 1959
Preview of film Friendly Persuasion
~ Mr. Frederick W. Clayton
The Ambassador and Mrs. Mills, Mr. Barrett Parker and the staff of USIS take pleasure in inviting you and your family to attend a preview of the Hollywood film "Friendly Persuasion," starring Gary Cooper and Dorothy McGuire on Friday, January 9, at 8:00 p.m. in the new American Auditorium in the Embassy Office Compound.
The showing of this film is gratis and will inaugurate, for Americans, the opening of the Auditorium.  The official opening for an invited group of Afghans and other non-Americans will take place the following week.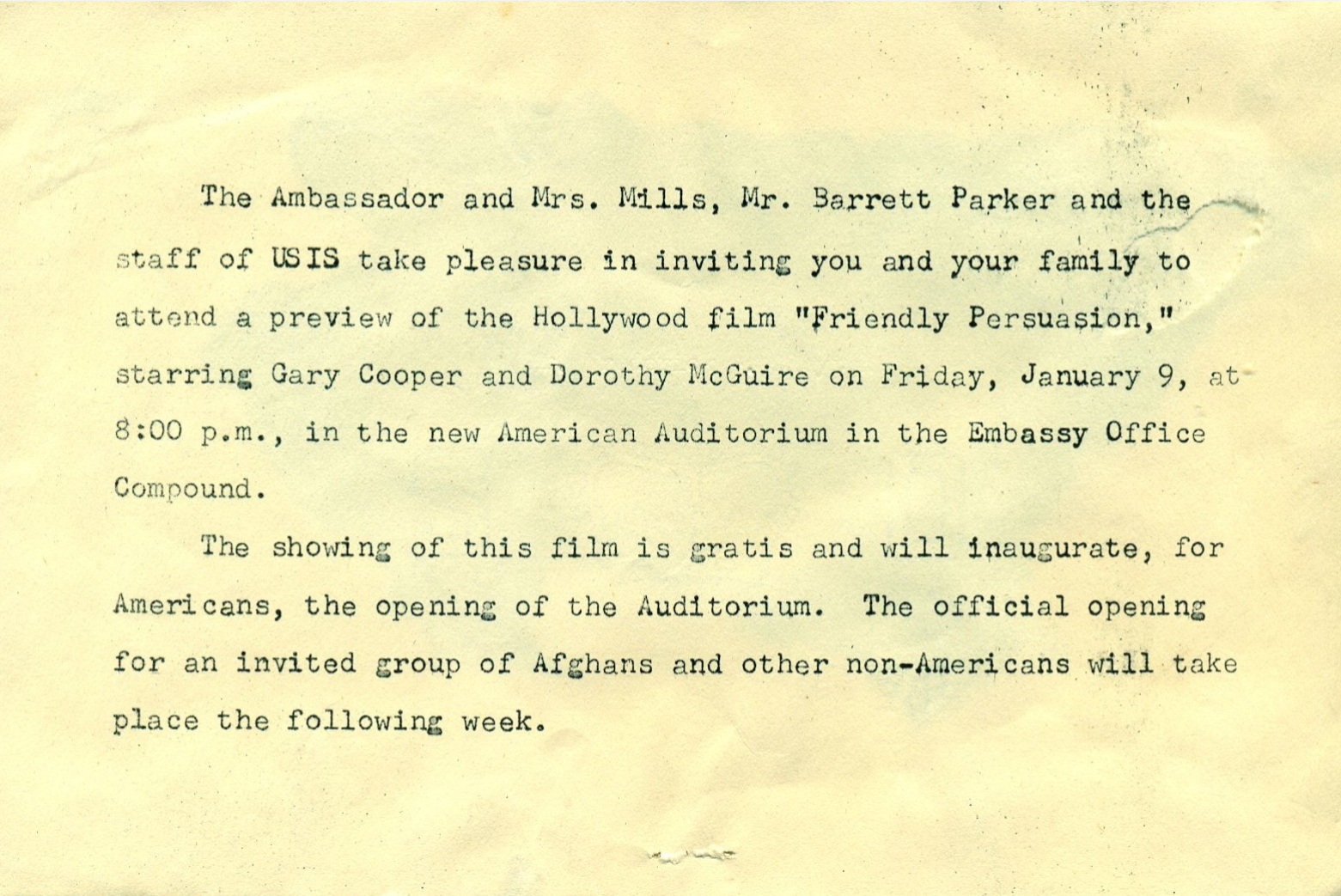 2012.03.20 – 19:45.
January 1st, 1959
January 1, 1959::
January 2, 1959::
January 3, 1959::
January 4, 1959::
January 5, 1959::
January 6, 1959::
January 7, 1959::
January 8, 1959-::
January 9, 1959-::
January 10, 1959-::
January 11, 1959-::
January 12, 1959-::
January 13, 1959-::
January 14, 1959-::
January 15, 1959-::
January 16, 1959-::
January 17, 1959-::
January 18, 1959-::
January 19, 1959-::
January 20, 1959–::
January 21, 1959-::
January 22, 1959-::
January 23, 1959-::
January 24, 1959-::
January 25, 1959-::
January 26, 1959-::
January 27, 1959-::
January 28, 1959-::
January 29, 1959-::
January 30, 1959-::
January 31, 1959-::