December 11th, 1972
First National Bank of Nevada – Joanne Roberts letter
~ This letter was written on December 11, 1972 by (Mrs.) Joanne Roberts, Loan Officer, First National Bank of Nevada – Second and Virginia Office.
In this letter Mrs. Joanne Roberts documents that Donald Clayton notified First National Bank of his intention of repaying his outstanding student loan.  Mr. Clayton's notice was within seven (7) months of his withdrawal from the University of Nevada.
Pursuant to paragraph (g) of the Interim Note Donald Clayton was in default of the FNB Interim Note, but was not in default of his student loan.  Paragraph (g) has a caveat (paragraph g-4) that suggests that pursuant to paragraph "g" the Interim Note was NOT in default.  The theory is that a "Pay-out Note" can be negotiated with the lender to repay the student loan.  The wording on the Interim Note is at best awkward, at worst it is absolutely contradictory.
The legal issue is whether any student has a right to repay a bank for a student loan that has NOT gone into a "student loan default" as opposed to a "bank note default".
Joanne Roberts realized the Catch-22 of the situation and wrote the letter below in order to get guidance from USA Loans (United Student Aid Funds, Inc.).
There is no record in the student aid files regarding the issue of whether USA Loans ever responded to Joanne Roberts inquiry and request.
By December 5, 1973 (a date still prior to the "due date" of the loan) all copies of the Donald Clayton (student) letter requesting to repay the student loan had been destroyed.  (See side notes written by USA Loan representative "CW"): "No copy in (USA Loan file), First National Bank verified the (Donald Clayton) file had been destroyed".
The side notes confirming the destruction of the evidence that proved that the student (Donald Clayton) had tried to make arrangements to repay the student loan in December of 1972 was made 2 days AFTER "CW" talked to Donald Clayton on the telephone and threatened a lawsuit and/or intervention by an attorney over both the First National Bank of Nevada AND United Student Aid Funds, Inc. handling of the student loan.
The de facto significance of this letter is that it demonstrates that "in practice" a student CAN NOT repay a student loan until it has gone into Official Default (through the USA Funds corporation) and has been turned over to a (NAS) collection agency that will collect the 33 1/3% in fees.
The Interim Note is not a real lending instrument at all, it is merely a CONTRACT that requires (substantially) that the student completes his education, and that the alternative is a "guaranteed" collection fee of 33 1/3% on the entire amount of any student loan.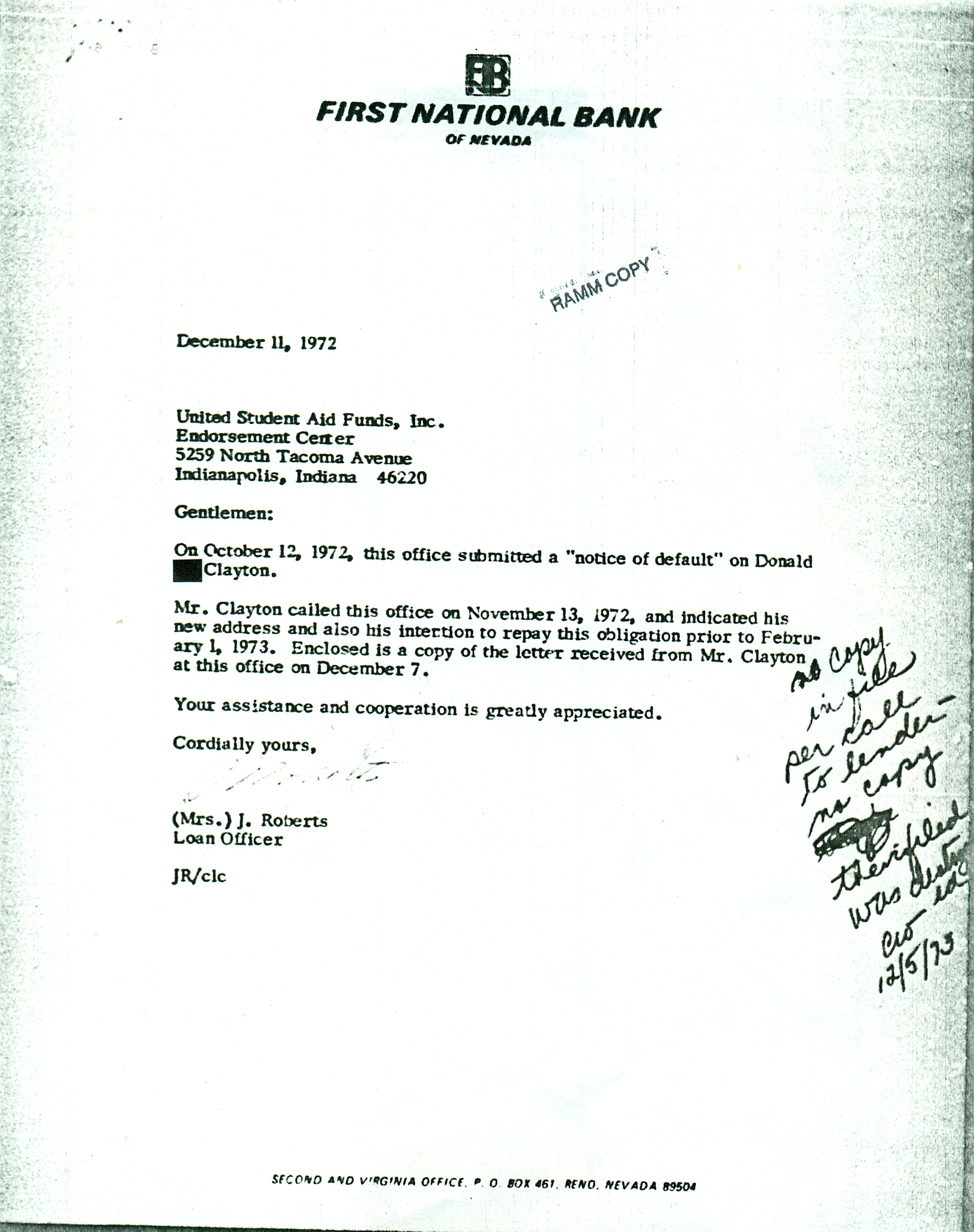 By this letter it is easy to see how far the banks and the student loan industry will go to keep making interest on loans and to make sure that a student loan can never be fully repaid.
A final note.  It is not clear by this letter whether it was Joanne Roberts that destroyed the file, or whether someone who was a superior at FNB destroyed the file or ordered her to destroy the file.
2012.05.14 – 19:18.