January 15th, 1974
United Student Aid Funds, Inc. – Richard P. Reinhardt letter
~ This letter was written on January 15, 1974 by Richard P. Reinhardt, Assistant Manager, United Student Aid Funds, Inc. (USA Loan).
In this letter Mr. Richard P. Reinhardt documents that the $995.75 certified check made out to the University of Nevada Board of Regents, re-endorsed to the United Student Aid Funds, Inc. has now been re-re-endorsed to the National Account Systems, Inc. to "pay in full" Donald Clayton's $750 student loan.
He unprofessionally comments that it pays to "stick to the gun".
The "effort" that Richard references in the last paragraph is wrong.  The reason that this student loan was repaid when it was, was that the student borrower (Donald Clayton) was interested in returning to school and the University of Nevada Regents, not Bill Rasmussen, required that ALL student transcripts and records be withheld if any student loan was in default.
Without repaying the loan "in full" Donald Clayton could neither transfer to any other school, nor could he obtain (or retain) any job that required proof of higher education.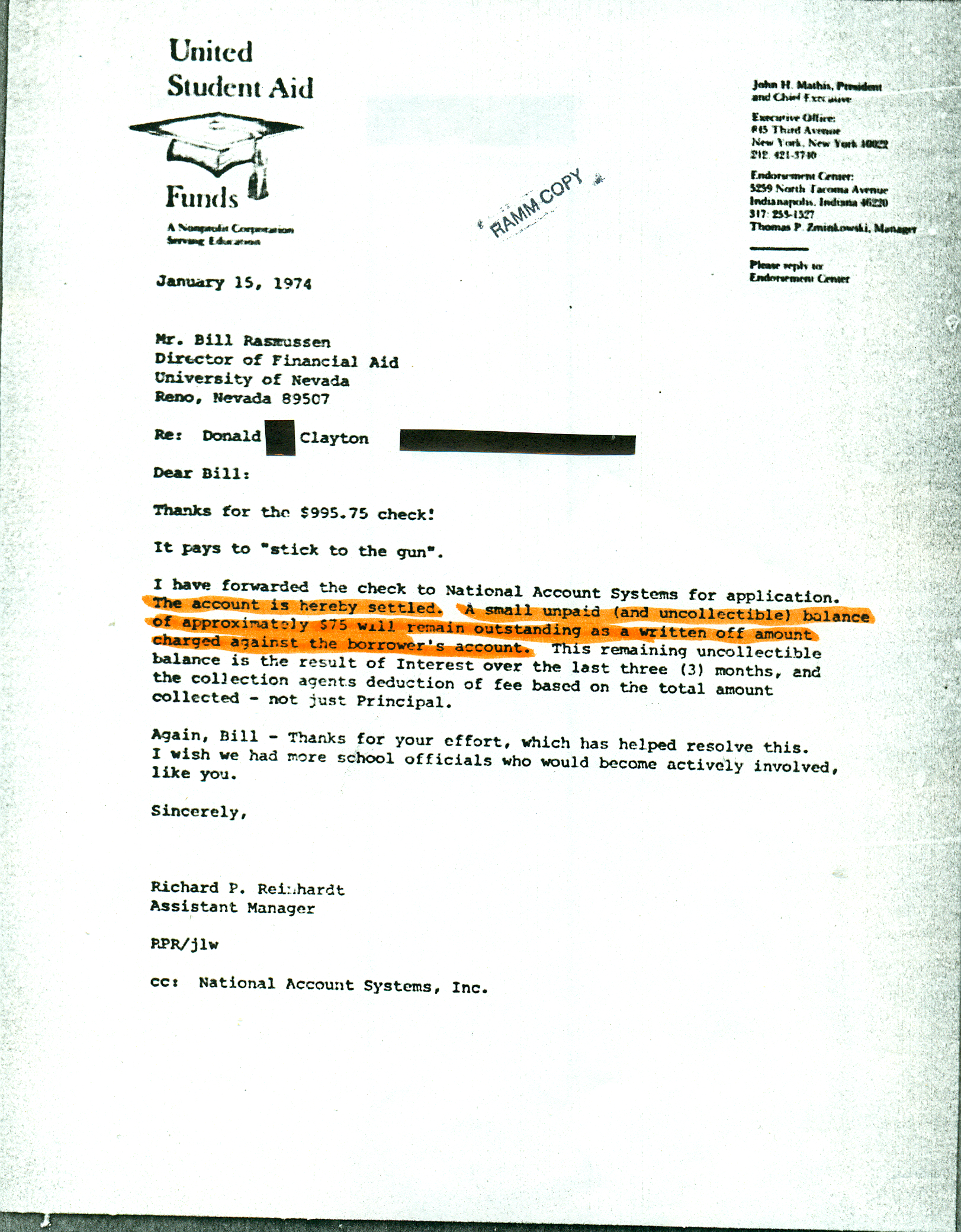 This entire letter is a fraud and a lie, except the part about the NAS (Inc.) getting all the money!
Richard P. Reinhardt is VERY confused.  First he quotes a pay off of $999.75 (falsely), then he adds $75 for 60 days interest (actually $12 of interest) (10/23/1973 – 12/23/1974 ~ the approximate date the cashiers check was written).  The 1/3″collection fee" on $12 is $4; $4 +$12 is $16, NOT $75.
The above is an example of the "guys" with "an education" and that get the High paying jobs. 
Richard still does not apply the reality that NAS charges 33 1/3% for ALL collections.  He lies about the $75 figure.  He also LIES about any amount being "written off".  His BIGGEST LIE is his claim that there remains a SMALL and UNCOLLECTIBLE balance on this student loan.  As we shall soon see, the U.S. Department of Education would "come after" Donald Clayton AND his later wife for amounts well over an ADDITIONAL $1,000 (one thousand dollars).
2012.05.14 – 05.08.