May 27th, 1991
IRS notice seizing tax refund – May 27, 1991
~ This IRS notice regarding the seizing of a joint income tax refund was generated on May 27, 1991.
In the document that appears below one can share the notice sent by the IRS when the federal tax authority serves as a collection agency for collection agencies (collection corporations).  It is all "very" legal of course, YOUR Congressperson and YOUR Senators made sure that the IRS can be used this way.
100% of the tax refund was seized.  The ENTIRE amount of the 1990 income on this joint return was from Donald Clayton's wife's earnings.  The entire $265.00 belonged to her.  She NEVER had a student loan in her entire life, never co-signed on a student loan, was NEVER indicated as a "maker", a "co-maker" or even a friend or relative on any student loan application.  Her name has been covered over (by me) because she simply was NOT involved.  She was not even married to Donald Clayton until six (6) years after the student loan was "paid in full".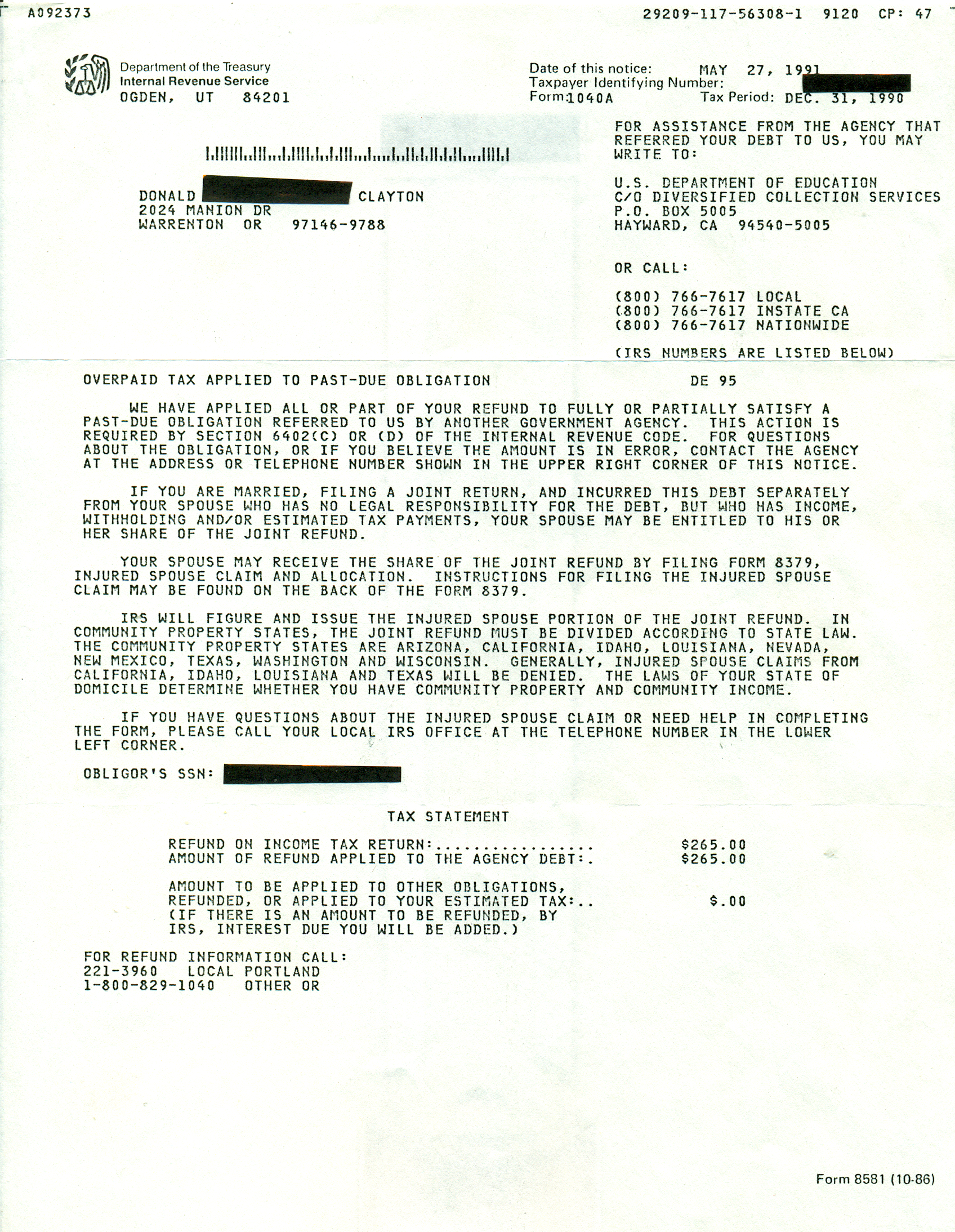 First, it should be noted that the fact that the name of Donald Clayton appears first on this notice has NOTHING to do with the way the Income Tax form was filed.  The IRS almost ALWAYS puts the male name first, it is a macho organization.
A "three second" look at the tax return would provide clear evidence of the income being the sole property of Mrs. Clayton.  Read the IRS notice, Oregon is NOT a community property state.
Read the law [Internal Revenue Code – 26 USC 6402 (d) (1) (A)] – "reduce the amount of any overpayment payable to such person by the amount of such debt;".  It's a no-brainer, the IRS makes the refund check payable to "Mrs. Clayton" (only).
But NO, the IRS cites a OASDI (Social Security law) to create a ruse about an "injured spouse"; a law created to protect women (and their families) in community property states from losing necessary funds (refunds) often used to feed and support a family.
Quite obviously this misapplication of the OASDI law [26 USC 6402 (d) (3) (A)] was not only illegal and wrong, it had the opposite effect of the intention of Congress – this May 27, 1991 seizure of the income tax return took bread literally off the table of a wife and child.  For another clear example see: here (paragraphs 6 & 7).
Just for the record, you can find form 8379 here, but this is a 2010 version of the form that has added "student loans" to the Social Security law.
It took four (4) months for the IRS to withhold the Clayton IRS refund.  You can only imagine how many months it would take for them to issue a Form 8379 refund, perhaps years.  They would first have to collect the funds from Diversified Collection Services, if not the wrongly withheld funds would have to be added to the federal debt.
2012.05.17 – 05:43.