July 8th, 1991
Department of Education letter – Purging the record
~ This U.S. Department of Education letter about a student loan (GSL) was produced on July 8, 1991.
In this document you can see the documentation of my student loan being "purged" from the system.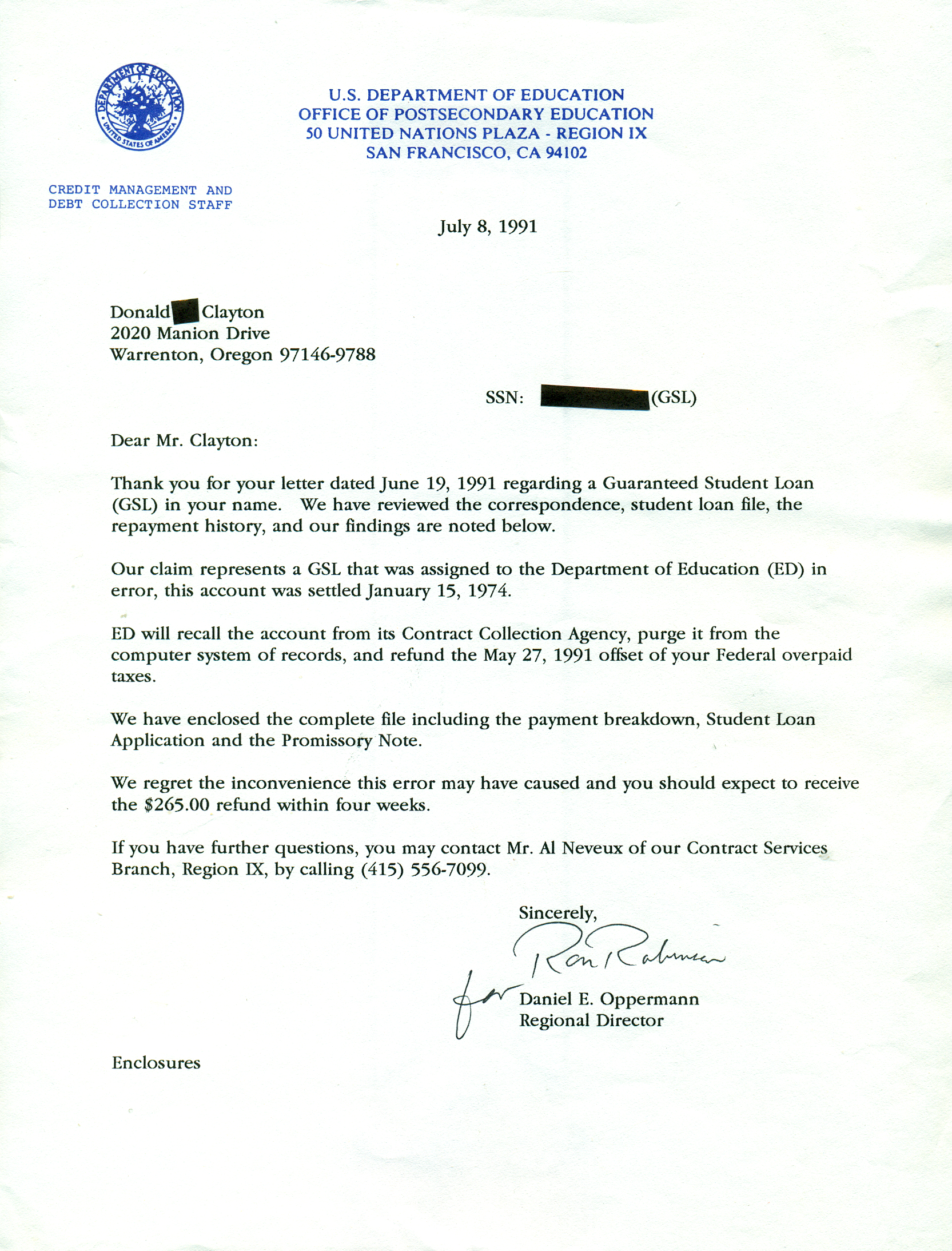 This letter sent under the name "Daniel E. Oppermann" is NOT as comforting as it seems.  To begin with, there is someone else's Social Security (Account number) hidden under that black border before "(GSL)".  GSL is short for Guaranteed Student Loan.
While the U.S. Department of Education (ED) did send me 33 pages of "file" accompanying this letter, there were 9 pages of "RAMM COPY" that were "ILLEGIBLE".  Of all 33 pages, only 2 pages were originals, the most important being the "Promissary Note" (the Interim Note).
The student loan application was sent as a COPY, the original application was NOT sent.   This gives rise to the possibility of it being used in the future as a basis for "Department of Justice litigation".  Am I being "just paranoid"?  I don't think so.  As you've seen from the beginning, the U.S. Department of Education and its agents are just plain crazy.

Another disconcerting point is that this letter says, "Our claim represents a GSL that was assigned to the Department of Education (ED) in error, this account was settled January 15, 1974."   ED uses the word "a" (singular), alone, ONE.  The evidence is that it was NOT the ONE student loan that was repaid; it WAS the new student loan that was created by the USA Funds, Inc. computers on January 17, 1974 (two days later) that was one of the student loans that DCS tried to collect.  In reality the DCS (Inc.) demands had morphed into at least four student loans (outstanding) by the time this ED letter was written.  Each "student loan" was based on reading a different line in the "payment breakdown" computer files.  ED did get that one right; the student loan computer system has always been "broken down".
So, REMEMBER – with student loans "over" never means really over, "settled" never means really settled, "paid in full" doesn't mean anything, there is nothing clear about the word "cleared".
The only way to END any student loan is to take the whole student loan program and KILL it, to drive a stake through it's bloody heart and pound and pound away until it completely stops, then to take the remaining body pieces and bank notes and burn them; and IF the banks don't have their proper records then maybe burn the banks (too) (meaning the illegally run banks) like they burned the one in Santa Barbara.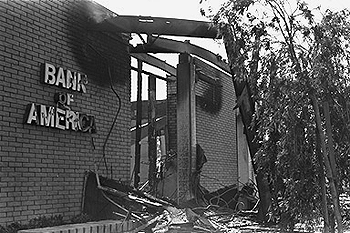 And really though, I don't really support this kind of violence as long as there is a better way.  You decide if there is a better way, don't just listen to me.

So (hey) let Congress decide, maybe the President.  Let them decide whether or not America will be plunged into another civil war, not so civil, about how "civil" is this thing called student debt.  It is not about the interest rate (stupid), it is about the loan, the existence of the student loan itself.
As I said in my post here, any student loan may kill you (or me).  And THAT fact is a crime.  The crime should be prosecuted.  Everyone should appeal to the U.S. Department of Justice for criminal relief.  Let's kill these corporations (legally) before they kill the people and fabric of the United States.  You see, I'm fighting for my life, and I'm fighting for your life too.
2012.05.17 – 18:43.