August 31st, 2010
~ Putting an end to August; or is August always an end?
SO!  I'm here, but I may not be "back".  It is hard to write and breathe Corexit all day all at the same time.  Add the UV radiation (code word for the brightening intensity of the sun) and life gets hard enough without wallowing in the mayhem of Afghanistan, of Pakistan, of Israel and Gaza or is it just the question of Palestine that we're after?  Too, Moscow I guess is still burning and China still has its floods and all is not well in Africa – meaning mostly the Sahel.
So, is it still hot in Arizona?  Did the boycott work out as planned?  Are the private armies that run much of Mexico getting all the traction (and publicity) that they need?  Will the World Trade Center (twin towers site) become the 400 square block National Recreation Area and Park that it should be (and every inch of this "park" under minute federal and park ranger control)?  Add that last one to the posts that I should have written but did not because of the Corexit in my body and in my throat and lungs – not to mention the swelling and redness of my skin.
I would like to make my case for more National Parks in Manhattan.  I would like to draw the map, show the areas where buildings might be bulldozed, where old brick buildings and new not so "modern" buildings can be turned to green – maybe the native animals of Manhattan can be put out to graze like they did in 1776, next to the building "1776" and a new statue to Henry Hudson and a memorial to the Swedish and the Dutch who settled Manhattan when the tip was really cool.
Some think that cemeteries and battlefields cannot be Parks.  Gettysburg proves them wrong.  Manassas is another, Bull Run comes to mind.  Omaha Beach would be a National Park if it were in America.  Pearl Harbor and the Arizona (a ruin still sunk with all the sailors still on board) is a park, a memorial, a recreation area with sealife and with newer subs.  An eclectic approach is best.  Some like pretzels and cotton candy with their memories of fallen soldiers (sailors) secretaries killed in the falling towers on that day.  A big gift shop would of course be necessary.  It could sell models of each plane; audio CD's of telephone calls from the towers; square handled trade tower flashlights could leave a light on like a Motel 6 ad, brought to you "and your park service" by Motel 6 of course – or maybe by Bill Marriott and the company he keeps.
Wall Street of course would be well within the "Park"; another "crime scene" if you know what I mean.  Park Security (meaning National Park Rangers) could be the guards at every door.  Someone has to save this institution, this relic from the past for the sake of history before even the building itself suffers from rack and ruin and 100 years from now would otherwise have to be restored (for the sake of history).  At the seawall they could tie up a super (oil) tanker and then tie up a container ship and maybe bring in an oil drilling rig made in China or South Korea all in the name of "World Trade" so that American citizens could get "hands on" experience about what world trade really is and what the towers were really for.
A Boeing 757 Dreamliner could be put up on display in Battery Park (now a "mini-park" within the larger National Park) with tours (of the plane) every hour on the hour; the "cargo hold" tour would be available twice a day.  Bus parking for the tour buses would not take more than 20 square blocks of lower Manhattan, the appropriate brick and marble buildings would have to go.  All the Park "concessions" for food would of course be Burger Kings and Starbucks and Krispy Kreams as that is what America as a nation really eats.  All other restaurants would be banned, save a parks employee cafeteria not open to the public.  If the system works way out west why not in Manhattan too?
The "Parks Idea" for the trade Tower site is the best of America in every way – it combines Big Government with Big Business (Big Corporations) in the best possible way.  Boeing (obviously) donates the Dreamliner exhibit (meaning the plane); the government runs the exhibit for free.  China Shipping can donate the container ship and a few thousand containers; maybe Halliburton can set up a few loading cranes and a few thousand containers stacked higher than the Wall Street buildings right next door (to Wall Street and the container ship).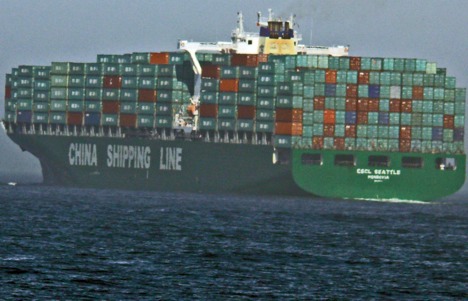 Park Rangers can work the cranes, create lots of noise, offer action shots of the world at work with "Halliburton means jobs" literature at every info-kiosk in the park.  BP can donate an old oil tanker painted up with new paint.  The World Wildlife Fund can have an exhibit on board about what good partners oil and seabirds make.
So many good ideas could come from the park; that's what all the "anti-Muslim" protests are for; it IS part of the pro-park plan; "Stop the Mosque" – "Inact the Park Legislation" – every American wins!  More, and maybe a map – later.
SO!  I guess that the above is "My SUMMER" in review.  The world (and me) did avoid nuclear war in the Middle East (meaning in Israel and in Iran).  The world avoided a methane explosion in the gulf.  The world avoided the collapse of silver, the skyrocketing of gold, the meltdown of Wall Street and that nuclear reactor on the Susquehanna.  There were no major earthquakes in L.A., San Francisco or Seattle.  Even the war in Afghanistan failed to go "ballistic"; without an end to the endless deaths.
There WAS concertina wire and tragedy in Liberia (for and about and against my son – reaching to me).  But there is concertina wire in Albuquerque too, and in Afghanistan too, and probably around every port where container ships go or where oil tankers disgorge their rent of oil.  Even the postal service in Albuquerque protects their property with this razor wire; why should Gaza or New York City be any different?
So, what is LOCAL?  Is it the water that we drink from Coke or Nestle bottled in plastic (oil products) from far-off contaminated wells?  Is it the air we breathe from far-off oil fields in the waters east of Texas?  Is it the cars we drive made in Japan or Korea or Bavaria at best?  Even our Apples are made in China and at $2 per hour (working wages) those workers kill themselves because neither capitalism or communism is working.  None of this is sustainable; none of this is green.
This post was to be about the local issues in my life.  My neighbors are fighting over whether to allow (meaning hire) the Blackwater Troops in.  These private armies go by many names.  The theory is that the police department isn't working; that the fire department will be next; that everything should be privatized and that money paid for private parks and recreation – private armies and mafia – private fire engines and insurance is NOT a tax at all; it's just business getting better and why should you be entitled to freedom unless you paid the $500,000 premium at birth?
Do you think I make this stuff up?  In Liberia in the 1940's one had to pawn their children in order to stay out of jail if one were not born rich.  Liberia exported slaves to Spain and the third Reich, legally because the 2 cents per hour wage was termed "contract labor".  THE U.S.A. just "looked away" because "free trade" was good.  Add this to my list of things I would be happier if I never knew.
Sooo, is their life after Corexit?  How long does it take to die when one is poisoned a little more each day?  Is the Internet here just to entertain you?  Will August or the madness end first?  I think I know.  It's "Goodbye August"; the madness is probably here to stay.
Sanity comes when one simplifies.  Safety is rooted in a lifestyle where there is nothing left to take.  Safety therefore is an illusion until all the "takers" are banished from the earth.  There are no "hearts and flowers" solutions on the table anymore – that opportunity is longtime lost.  Wisdom must now come between the heartbreak and the peeling, the downsizing and the rain.  The good thing is that September is not October and that it is really not November yet.  December is just a blur.
[ First posted:  2010.08.31 / Tuesday ]  3:45 P.M. New Mexico new Time