October 25th, 2010
~ Is it about Ben Bernanke or is it about Sikorsky or is it about Afghanistan?
If you haven't read all 400,000 pages of the latest Wikileaks release you just aren't really a reader or you don't know the first thing about publishing.  "Snail books" is what one might call traditional publishing, the old boys of Wall Street and of New York and the New York publishing houses that think that the world's thought can be controlled by controlling the world of books and the lists of books that people should / are reading – otherwise known as the New York Times list of "best sellers" with every title and author bought before he or she writes a dime – referring of course to another dime novel or something.
Email; no dash now, no capital letter, it's not an abbreviation for "electronic" mail; it's just email now and that's because like "V"- mail before it the letters get shortened (meaning to lower case) and the idea of victory gets lost in the rush of words.  Zap Mail never was reduced to just a "Z"; at least not by Federal Express, but then the Challenger got lost and too the dreams of empires based on facts – or was it "fax" and fax machines?  The point is that an email is a facsimile of nothing.  There is no signature, no sleight of pen, no cursive script or block letters or shaky handwriting still wet with emotion.  Email is dry; but, "snail mail" is no more anyway.  Pour salt on the escargot and all that is left is the shell.  It's something my grandmother showed me.  She didn't like the buggers that ate her flowers and other greens.  First things go slow, then they're gone.
The important things are now published on the web.  The web is fast.  The web moves like helicopters and air power.  It hovers, darts in, darts out and brings things like firepower and money with a lightening speed that comes and goes so fast that there isn't time for a stamp (meaning postage stamp) or even a hard or soft type cover (applying once again the metaphor of books).
Igor Sikorsky invented the helicopter of course and also made those first great flying boats for Juan Tripp, founder and promoter of Pan Am which was of course Pan American Airways – PAA for short; it too carried no small quantity of mail.  Igor is, like Juan, now dead.  The new Sikorsky just bought Eclipse Aviation, the bankrupt aircraft company based in Albuquerque.  I guess that makes the Eclipse jets almost like helicopters, given the name and all, almost like an Osprey.
They (meaning the military) fly Osprey's out of Albuquerque.  The planes have two enormous rotors that tilt up to lift off and down to enable fast fly by wings.  The airflow is tremendous, so too the noise.  These planes do not make good neighbors.  Like with helicopters one should never try to surrender to one.  By standing orders they will kill you – the rotors, the prop wash (maybe the machine guns); it doesn't matter – in any case you're dead.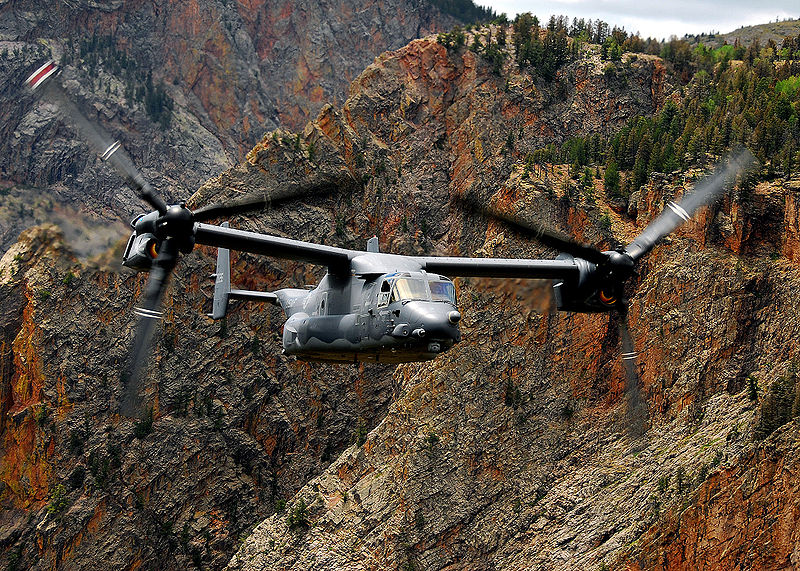 Above is a picture of an Osprey in New Mexico.  Flying these monsters at low elevations is where your last US dollars will be spent, so forget about health care, social security, or Saturday mail service.
So, why this very random post?  The point is that in the Wikileaks papers it was revealed that if Iraqi nationals tried to surrender to US helicopters the orders from the US commanders would be to "kill them".  And the US military forces did.  They shot down (being a pun) and killed the unarmed civilians with hands held high.  "You can't surrender to a helicopter", this being something that everyone who ever watched MASH (on TV) certainly should know.  Helicopters, and "helicopter ben" are NOT your friends.  The American military is not your friend; unless of course there are no machines involved – no tanks, no Hummers, no helmets with internally mounted cell phones like those featured in the movie Green Zone – looks and moves like a machine, you can't surrender.  Remember that!  A police car, a water cannon.  Machines take no prisoners.  Not ever.
So, amidst this insane information from a clearly insane world we try (in our daily lives) to find a bit of sanity.  Clearly, what is old news from Iraq is new news (yet unrevealed) from Afghanistan.  The rules of engagement have not changed.  The commanders there are the new ones here; the military always moves slowly.  Only the rotors are faster than a speeding bullet.  And only the internet  will make you free – but since it too is a machine; never surrender, or you may die.