April 26th, 2012
The winds of fire
~ Variations on the strangest dream.
I had a dream the other night that "it" was over.  Or should I say that the other night I wished (in a dream) that it was over.  It's not.  It's NOT over that is, but to rephrase Winston Churchill, "The waiting is over."
In a world that has embraced the concept of endless war the fact is that we are now joined in the final battle.  The battle is biblical of course, depending (of course) on your version of the Bible, of the sacred word, of the word of God and what it represents and when it will come to pass and when thoughts of being overpassed have quite frankly passed over.  Nobody gets passed over this time.  Take your sides.  The first to be lost will be those found undecided.  Time (now) waits for no one.
The ancient enemy has struck his colors, his code, his plan for world control and domination.  There was even a logo once.  The Information Awareness Office – IAO.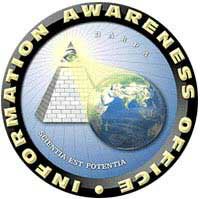 Can you see it?  Can you see the I (eye) graphically, the pyramid that is the "A", the world (globe) that is the "O" (the orb)?  The idea is that "information" matters, that knowing everything that anyone ever said or did or does (duz); knowing where everyone and anyone ever was; being aware of what was politically correct and politically acceptable – together, all together now, really mattered.
That is why there are all those cameras in the squares and on the streets.  That is why the TSA takes such detailed measurements of every inch of your body.  That's why the grocery checkers check each purchase with a bar code and record it, match your buyers card with each receipt, match the camera angles from over head.  An iris scan, facial recognition; precognition "no", it was all planned by an intelligence long ago – from the dark side.
So, I have written so many posts about how the computers so often get it wrong.  They suffer from dementia, from tiredness, from old age and broken bones and other parts and hard drives (memory) gone missing.  They are really so "human" after all, they get overworked and overloaded and can't get the alphabet straight or sometimes can't even count past two.  To put the world in such hands as these, you can't be serious!  It doesn't work, the system is splitting apart at the seams and with each new bit and byte it gets closer to an information freeze, the scientific counterpart to global warming.
So lets load it up folks, and upload too.  Give the (bastards) everything they want, more information than could (or should) ever matter.  After awhile it begins to look a lot like trivia and a very trivial pursuit, the IAO, the "intelligence" community, the office of records, search and scan.  To beat them all you have to do is, "just keep talking", jive talk, talk in riddles and about things that you will never know; ask for everyone to "get along" and then act like you don't really mean it.  It's war.  The peace is over.  It's take out time, and this time I don't mean food.  The fear (mongering) is so boring.  You want to see some balls, some ass, some 64 year old completely naked?  The heat is coming, real heat, the big heat, the heat that goes on and on until the old world is finally over and seemingly EVERYONE is running around NAKED in the streets.
The "New World Order" is a myth, or maybe not.  Maybe it was all just a warning 'bad guy to bad guy' about when to know when you're dead.  All the skulls and bones are (for some) too real, it is the skull contemplating the skull, the dead burying the dead; the poetry of the whole thing IS really fairly exciting.
And about all that information?  It is a two-way street.  The receipts document each mouthful of bad food they ever sold you, who made it, where and when.  It can be used to prove how bad the cars were, how poor the gas, how bad the health care was when people really needed it (meaning good, honest care at honest prices).
Information awareness will prove how much the government lied, the politicians, the prostitutes and Hollywood and all the pimps. The coming awareness will prove how corrupt each corporation always was, how greedy and LAZY were their executives, how such little work was their undoing and the undoing of America and all its minions.  The tapes will show how many doughnuts every cop ever ate, where the cops bought their bullets and their guns.  Every stool pigeon will make a tape or reveal the tapes that they made, secretly, like in surveillance (as they had it too).   Who's really watching who?
I'm watching.  I've been watching.  I too am a witness.  I'm willing to testify, I'm willing to spill my guts out to convict the bad guys, no plea bargaining this time , just the TRUTH, the whole truth, nothing but the truth.  I have nothing to hide.  I need no place to hide.  The truth will protect me.  I've tried to live an honest life and those who tempted me (to do otherwise) is so easy to show, to prove.  They've got the records, the memory, and so do I.  It's parity.  Finally, the playing field is equal.  I can't wait for May.
Envision if you will a whole world awakening, awaking from an endless slumber (a seemingly endless summer of things ALWAYS getting better, or at least better in the eyes of God, two eyes opened, depth perception to see into the darkest deeps where no secrets are ever hid and where no one even tries to.  We all live in glass houses now, open, transparent.  Every ganderer gets a view.  No exceptions.  Even the 1% will get down, get naked, get exposed on the midway, mid-day, in the hot midday sun.  And all the WORLDS will be watching.  We've waited for this time for so long.  We've prayed for this time for so long.  We've dreamed for this time, and too, we've wished.
Forgive me for my warts.  In a new and better world maybe so many people won't have them.  The old world, the Old World Order, it's passing, it is nearing its death, even the memory of it will soon be forgotten; Obama, Clinton, Bush and Cheney (and so many others) just like dust in the wind (and ashes from a fire).
2012.04.27 – 03:14.