January 31st, 2013
Another cup of coffee
~ Wherever you go, whatever you do; there are these things.
I got up this morning and was confronted with the news about Hegal.  He wants (maybe) to do away with nukes, to have Global Zero.  I don't like nukes.  I have posted many times about them and about my opposition to them, but my ideas about the opposition probably is fossilized in images of "ban the bomb" protests in England and letters by concerned scientists.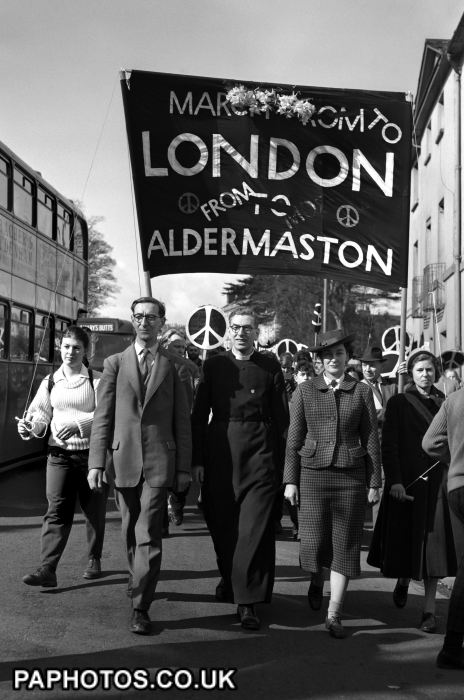 Canon Lewis John Collins (centre) and Jacquetta Hawkes (checks), writer wife of novelist J B Priestley, heading a column of anti H-bomb demonstrators.  The "ban the bomb" sign later became the "peace" sign of course.
So, lately I've been a bit consumed by lists, by making lists.  It is an effort to quantify and categorize lives, ones life.  Hegal is on the list of "anti-bomb", and so am I; New Mexico is concerned.
The "concerned scientists" here are those whose life work and careers are caught up in the bomb, making them, refurbishing them, planning "new" and "better" bombs, all nuclear.  Sandia Labs and Los Alamos Labs and the (old / new) Sandia Base at Kirtland and the base at Trinity Site and other bases scattered throughout New Mexico make for a lot of spending on the bomb, on nuclear, on nuclear weapons as an industry and a very large (U.S.) government expense.  The "concerned scientists" don't want to see all this money go away.
So the New Mexico delegation to the Congress (that never was), that sits (and sits, and sits) in the U.S. Capitol is concerned.  They are questioning Hagel.  His "use them or lose them" argument might seem wrong; but, deterrence isn't working if one sees deterrence as making other countries not want the bomb.  Think Iran, Israel and North Korea.  What other use is there for nuclear weapons besides "deterrence"?  Do we really want to make a hole in the world half the size of Africa over a country half the size of Cuba, and because of one which is half a world away?
Ah gee, New Mexico might suffer.  The economy here is based on the dole, meaning free federal money, big bucks, the endless largesse from Washington.  It's welfare from the welfare state in Washington anyway you want to stack it.  It's not pure, but IS simple.
Talking and worrying about and protesting nuclear weapons has contributed to the sale of a lot of cups of coffee.  It's the Hooper Diner thing, just another cup of Joe.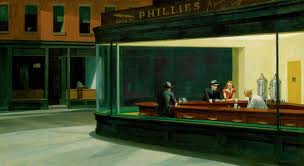 Nighthawks by Edward Hooper
So, my list starts with "I like coffee", it continues with "I don't like war".  "I like old hotels" from the turn of the century through the 1920's; "I don't like nukes" even if getting rid of them might blow New Mexico off the map economically.  "I like the past" because I have real questions about the future.  Let's talk about it, over our good friend Joe.  It IS what coffee houses used to be all about, before Starbucks and $5 (not 5 cent) cups of latte.  Since the dawn of nuclear weapons things have (literally) gotten about 100 times worse.
We will see what all the social networking might mean when it is done mostly just on the web.  There's not a lot of space (now); not like in the times of Hooper when people talked and communicated with not a telephone in sight and talked about things that mattered – "is street theatre really dead?
I don't know which is harder; to try and recreate the way life was or to paint pictures of how life could be.  The argument could be made that nuclear weapons (virtually) destroyed all of us, without the dropping of a single bomb after the dropping of the first two of them (on populated centers).  All our lives would be so different, not living ever under the nuclear umbrella, just regular umbrellas. It's like trying to imagine a French impressionist painting where everyone is packing guns.
Leadership is about being able to create new ways of thinking, not just romping through the ways of thinking of the past.  The point of history is to create a demarcation line between yesterday and the present so that we don't all just live in the past.  Nuclear weapons (like cars) are so yesterday; it's time that we "suck it up" and know.

"I don't like cars", I don't see the point; why should owning one really matter?  Like owning cellphones, there is a new generation being born that won't even want one.  There's a "next-next gen" that will fight with their parents about how dated they are, how uncool, how retro, how like living in the past (cellphones really are).  Maybe "they" will be a generation that can relate to Hooper, to the Impressionists, to a world without the bomb.  Things really can go full circle and not just get stuck at 180 degrees.
2013.01.31 – 20:09.