March 11th, 2015
~ Albuquerque made the news today due to three 'fast-breaking' stories.
Traditionally a news story had to be timely in order to be considered as news.  The key in the word news was the word 'new', although in High School Journalism I was taught that 'news' was also a reminder of where the news came from, being: north, east, west, and south.
All that has changed now.  Most local stories are dead, or about the dead and the dieing that are always just the local angle on the ongoing world-wide slaughter of both the innocent and the guilty that is all a part of the planet's populations preoccupation with an excessive amount of change, meaning constant change.  The only real timely event is one that has gone viral, while it is still going viral, not after the fact.
The making of lists was always the rage in the 40's and 50's and 60's when America seemed to make it to #1 in virtually every field, every event, everything that was worth tracking and counting and keeping track of.  It was hubris.  The lists then were always just about the things that were being promoted as 'good'.  The things being promoted, like growth, like tallest buildings, like the greatest number of cars.  Nixon (as Vice-President) went to the "Communist-City" of Moscow and debated Khrushchev (Communist-leader) of (Communist) Russia (meaning the Soviet Union).  I'll get back to my point later, but Nixon's point, and point of view, was that things like kitchen sinks, and electric mixers, and refrigerators were what made a nation great, not just having a longer history.  In refrigerators the US was #1.
Lists are now not about the 'evening', about areas where a nation, a person, or a city might want to catch up and be #3 maybe, maybe #5, or if possible #1.  So much of everything in America has always been, and is always still, about #1, about being the best, being perfect, being the richest and being #1 in flaunting it.
The #1 News Story today, in Albuquerque, is that Albuquerque is #5.  Yes, Albuquerque is the 5th 'quirkiest' city in the nation with New Orleans being a solid #1.  Albuquerque is never number one in anything, except red-or-green chile consumption; and because there is a choice Albuquerque is always just #2 in the ranking of each individual category.  That's always the story of life in Albuquerque, there is always someone out there that is always better, always bigger, always best and besting you when you can't possibly ever be "best".
"An unusual habit or way of behaving," is the way that quirk is defined.  I think that the point of the Travel & Leisure magazine inclusion of Albuquerque in the list was that "Albuquirky" has such an interesting ring.  It is only the local population that will suffer from the bad breaking story, which brings up their point that "only in Albuquerque" is breaking bad seen as being good, despite the fact that virtally the entire nation thinks Breaking Bad is really, really good, perhaps #1, but it probably just misses, comes in at #2, like Avis with nothing to do but "try harder."
The #2 News Story today, out of Albuquerque, is about the plight of the homeless.  It's an ongoing story.  It is once again the story about how the homeless always have to move, have to keep moving, how they are never allowed to have a homeland or homeland security.  It's an international theme.  The Albuquerque short-story version is just a reminder of bigger things, broader themes.
The homeless in Albuquerque are not wanted downtown, so the city allowed a camp near the tracks.  Neighbors complained so they were removed to a new camp on a nearby land lot that was donated to them by a community group that didn't contact the owners (of the land and the lot).  Like in Palestine, the real owners objected.  Yes, this story is true.  However, unlike in Israel, the homeless in Albuquerque did not get to stay, they were given eviction orders and told to move on.  They were told to move to a 'Lomas site', not far from a freeway where they could be free.  The freeway authorities claimed the land as "their land" and told the homeless, once again, to move on.  "Go to the shelters where you will be fleeced and get raped," was the message.  Well, not really the real words, but sometimes the reality of the situation in too many cases.  Eviction notices have been issued.  The story continues.  It's just another war and just another war story, like the one I wrote about yesterday or the day before.
So, now we have the story of News Story #3, the real story that really went viral.  You see the point by now, life in a world that won't ever be fair, that makes just about everyone (except the 1%, the #1's) feel like life is not worth living unless you are the 'number one' on the top.  It's the "Cottonwood" story, the story of the Cottonwood Classical Preparatory School and their 38 member, Class of 2015, senior class prom.
The school is a little international of course, it does offer the IB, which honestly does make this school a bit special.  But, living in Albuquerque one cannot ever hope to be too special, to be #1, to ever be at the top of things ever, for even one day.  It is probably a lot like being Khrushchev, or Russia then, or Palestine (Gaza) today.  The US, land of the free, would not even let Khrushchev visit Disneyland on his American visit.
What really is Prom-munism, and what really is it all about?  Are there Prommunists?  Is there a Prommunist conspiracy, or are there good things to say about Prommunism?  I think there are.  I support Jody Bailet, Rose Kerkmans, and Dylan Yarbrough in their efforts to have a senior prom that was not just about fancy dress and dresses, long limousines, dining experiences fit for a King, and the ubiquitous lavish lodging experience in hotel and motel rooms that far too often follow.  A prom is a dance, or probably should be just that.  It should not be just a demonstration of who is on top and how much they can spend.
As one of the three said, we just wanted chocolate brownies, that tasted like brownies, and didn't have drugs and didn't taste like they had drugs.  Only in America could so many people so heartlessly disagree with the sentiments expressed here.  No drugs, no sex, no conspicuous consumption as the central theme of prom night?  Heaven forbid, because all the parents seem to support it, the trashy prom thing that is at the center of it all in most American high schools now.  Cottonwood High just goes to show how "quirky" Albuquerque really is, and how civilized of course, and really how much Albuquerque is really on (as always) the cutting edge of things, a part of the future and not just living in the past.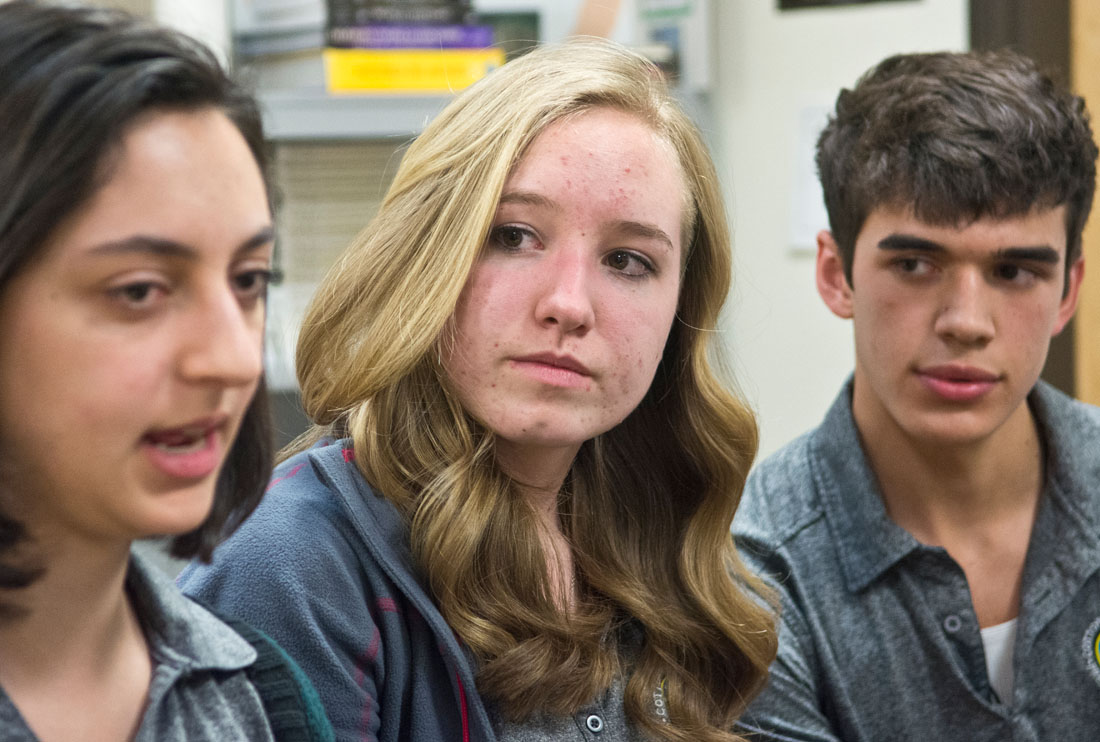 Jody Bailet, Rose Kerkmans, and Dylan Yarbrough are really great kids, great young adults, that really seem to want a future that is not just about being #1 and the 1% thing.  Just sayin'.  (Photograph courtesy of the Albuquerque Journal newspaper – Marla Brose, photographer)
I'll be glad to take this whole thing one step, two steps, probably a lot further or farther.  I'm a Prommunist at heart.  Give me a card, I'll carry it.  Put my name on a roster, on a list, so I can be called to appear at the hearings.  It's a matter of record now.  I'm a fellow follower of Bailet, and a believer in Kerkmans, a Kerkmans-ite maybe, maybe a Yarist, of the Yarbrough political sect.  I'll wear grey, just like they do.  It's a uniform now, a far better shade of gray than the shade of grey that mainstream America is now all about, assuming that America is now mostly all about just being a movie, or copying movies.
Let the word Prommunism live in infamy.  Let it be like the Maine, always remembered.  Let it be like the 'shot heard around the world', a one-word world manifesto about where we've been and about where we really should be going (and growing).  It's like a voice in the wilderness, this word from the desert (Albuquerque is really a desert), I predict that Prommunism will grow, it will grow like a movement, like a weed, and that too will be good in a nation that too often just wants to kill all the flowers.  We all know that the confrontation in Ukraine is a war that the US can't win.  In nuclear weapons it is Russia that is clearly #1 now, now that they are no longer just a communist state.  There is a new state of mind there, not the old USSR (CCCP) at all.  Things change, and words change too in their meaning.  That's where I started (this post), change – everything is changing, and all change, in the end, will be for the good.
As you can clearly see by now, all three stories are really related.  All stories are related, and are told and retold until the lessons are learned and things really, really for real, really change.  It is a journey on which we have started.  I like the kids, these real Albuquerque leaders, these champions of freedom and equality and fraternity (so unlike the SAE fraternity brothers).  These teenagers backed down a bit this time, they had to, too much parental, peer, and authoritarian pressure.  They are not schooled in how to best handle viral.
But, there really is the birth of a new freedom here, the freedom to be just ordinary people, not #1 and never feeling the need to be.  The cold war is over, or should be.  No need to bring it back.  No need to be reminded constantly of how short and stubby all the American skyscrapers now are compared to the rest of the world, or how few refrigerators we make or we have.  It's a post-empire world we live in, or soon it will be.  These IB students have learned much about history and even more about the present.  When they speak, the rest of us might listen.  The evening is already here.