October 24th, 2015
~ This post represents reflective observations regarding a Field Trip of two hours to locations on and near Kirtland Air Force Base in Albuquerque, New Mexico.
INTELLIGENCE REPORT – OCTOBER 24, 2015
The trip began with the following invitation received on September 29, 2015:
Attached please find the press release for the next Kirtland AFB Bulk Fuels Facility field trip, highlights are below.  Please note that the deadline for registration has been extended to Oct 4, midnight.  If you have any questions, please

contact
the Air Force Civil Engineer Center Public Affairs office at (866) 725-7617 or email
afcec.pa@us.af.mil
.
lisa
KAFB / NMED Joint Field Trip:   Saturday, October 24
Getting on Kirtland is not an easy thing, the base is basically closed.  I had never been on Kirtland, but I have flown over it many times; the civilian airfield Sunport (ABQ) shares runways with the military airfield of Kirtland.  The rules for the field trip were quite simple: 1.) be one of the first 100 people to apply; 2.) provide your name, date of birth, and the last four numbers of your Social Security Number; 3.) register by close of business of Monday, October 5, 2015; 4.) bring a photo-ID with you on the date of the field trip.
In very clear language the on-line registration form stated: "You will need to present photo-identification on the day of the event when we enter the base.  Every one in the world now requires ones Social Security Account Number for just about everything (except eating at Chipotle's), and my date of birth is all over the web, and I have and carry a New Mexico driver license, so, "why not," I said to myself, "I always wanted to see a 'AFB bulk fuels facility' up close and personal."
Actually there was more to the trip than might meet the eye.  It was a friend that forwarded the invite to me, an activist of sorts, a person concerned with environmental matters and hazardous waste.  The Albuquerque Journal has published articles suggesting that the "fuel spill" at Kirtland AFB might be a problem.  There were articles about "a plume" that threatened the drinking water extracted by the City of Albuquerque from the aquifer that was close to Kirtland.  There were articles about how the city got out of the drinking water business about this same time.  So many connections that it is hard to know which connections are the right connection.
'Bob' informed me that the City got involved, the United States Air Force, the New Mexico Environment Department, the DOE, Citizens Action groups, community and neighborhood residents, and probably others, and they all decided to work together on an, "action plan."  The field trip had to do with a 'progress report' on the progress.  So I quote from the invite: "The field trip will be a two-hour tour of project location on KAFB and will focus on work being done to remove contamination caused by a leak at the base bulk fuels facility.  Air Force and NMED environmental experts will be available at the tour stops to explain clean-up activities and answer questions."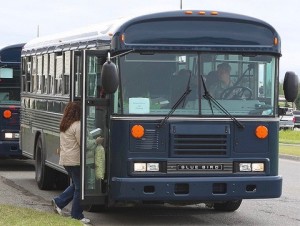 United States Air Force Blue Bird Blue Bus.
So, it was a "leak," not a "spill" that I was going to be seeing; but since the leak had been all patched up, and the "bulk fuels facility" completely replaced, the original one erased, it seemed to be that it was an "aquifer", or a "contamination" that I might be shown.  I knew better.  Aquifers are underground and are generally very hard to see.  The way one sees into an aquifer is by drilling a well and testing the water, or the vapor, if there is vapor.  So the point of the trip was to see wellheads, vapor trails, vapor extraction equipment, equipment designed to extract contaminated water, equipment to reprocess the water, equipment to make it beneficial again.
The trip began at a Community Center blessed with an oversize parking lot overlooking the six foot high chain-link fence that protects Kirtland.  There were a number of unidentified Air Force types, wearing civilian clothes, there to greet us.  There were maybe 20 unattached civilians in the group.  There were about 36 people attached to the military, to the New Mexico state government, to press associations or un-named associations.  At least 10 of the 20 (civilians) were attached to (or were leaders of) activist associations.  Out of nearly a million people living in the Albuquerque area, only 10 people in the group were unaffiliated.  Five of the people lived in the neighborhood above where the fuel leak contaminants had run their course, and as a result had ruined the reputation of the neighborhood as a good place to live.
We were literally ushered into the Community Center.  The assigned people there asked for our names.  They had a list.  They checked it twice.  They did not ask for ID's, they trusted us, or perhaps had other ways of knowing.  One can't be too careful when the temptation is to underestimate the military.
The assigned people issued us the assigned packet; 19 sheets, 26 pages of full color pictures, charts, and graphs reproduced on very expensive paper, not quite parchment, but expensive, almost perfect printing, very nice.  A stout metal clip kept everything nicely together.  Many pages had ample room for notes.  On page #3 we were reminded that we should have brought a clip board for writing.  Not one person on the tour had a clipboard, I guess the advice was too late.
The buses were carefully positioned as far away from the Community Center as they could possibly be.  It was not 'door to door' service.  There was a nice very white van, so shiny and new that there was no doubt it was shiny and new.  It had US Government plates on the front, but otherwise one would never know it was Air Force.  Maybe it was not Air Force.  The other vehicle to be used was an Air Force blue Bluebird bus with the classic Bluebird body.  It was the newest Bluebird bus I had ever seen, nice and clean, and I have ridden on a lot of these Bluebird buses in my life, mostly on military bases, mostly military.  Bob pointed out that they (the Bluebird brand buses) were also used a lot by schools, and school districts bought a lot of them.
I got on board.  The seats were a lot nicer than any school bus I had ever been on.  The seats were very comfortable.  Nothing is too good for the modern military.  It was very evident that the Air Force takes good care of its own.  The bus driver was nice, he said, "Hello Sir."  Such communications always make me feel good.
The bus drove a bit around Albuquerque, the part before one goes on the base.  There were two 'experts' pointing out things, explaining things, clearly enjoying their work.  One was with NMED, 'enemy D', as the other expert kept saying.  I guess it was a slip of the tongue, or the result of an unfortunate acronym.  They were very polite and cooperative with each other, a real team.  They pointed out the deep wells that they were drilling in the neighborhood, test wells, or extraction wells, or both, or neither.  They thanked the residents for being good sports about the noise, the traffic snarls, the thud-thud of the drilling.
After looking out the bus window at a church parking lot with a new deep well well in place we were informed that it was a 'traffic qualified' metal cover that covered the well hole.  Such a nice touch for a cleanup that is so very challenging in an urban environment.  Kirtland was probably out in the boonies at the time of the spill (really leak); it was never anticipated that houses would someday crowd around an air base I guess.  But nobody really knows when the spilled fuel, the leaking fuel, the whatever fuel, got there, or was first leaked there, or entered the ground there.  The point of the operation is to "move on" and to do the best one can to "cleaning it up."
The bus, and all of the occupants, moved on to the 'Truman Gate' at Kirtland to move on to being on the base itself.  The Gate is named after the road; the road is named after the President of the United States that was probably President when the first fuel was spilled, or leaked, or got out of hand – Harry Truman, the "buck stops here," Mr. President.
And like we were all Presidents of the United States we were quickly whisked through the Truman Gate without such as a murmur or mention about showing an ID.  No bags or backpacks were opened, much less searched, base security was baseless on this day, for this tour.  I sincerely hope that things are not as casual on other days, and with other people.
It should be noted that at the beginning of the tour people were asked to have their names checked against a list.  However the only tour ID that was provided was a copy of the 26 page report, not everybody received one; and not only that there were boxes full of the reports in a box on the ground at the entry to each bus.  The buses were more than 300 feet away from the Community Center.  Anyone, from anywhere, could have easily parked, or walked, and climbed aboard the bus, even grabbing a packet.
During the entire tour no one ever asked again for a name.  On the buses, seats were exchanged, people changed from bus to bus.  At the end of the tour no one checked off names as the buses were unloaded.  Most school field trips have tighter security than this tour did involving a theoretically high security United States Air Force nuclear weapons air force base.  It was my impression that the tour group lost at least five people after the first stop, I could be wrong; but if I am not wrong they found their way on to a free range on Kirtland.
There were a lot of very expensive, very high resolution, cameras in evidence at the first Kirtland stop.  One camera had a very large telephoto lens.  There was even a news team quality camera and tripod set up.  All the cameras did a lot of filming, or capturing of digitized images.  Most of the cameras were taking pictures of faces, of face time.  Most of the cameras were used by Air Force people dressed in civilian clothes.  They must have taken twenty pictures of me, and I am not even sure why I was there.  My theory is that they took the pictures to identify why I was there, to match people and names, with faces.  If I am right they will have read this before even you.
Name tags on a trip such as this would be good.  Checking ID's would be good.  Keeping track of people and identifying people and introducing people by rank and title and active service status would be good.  It would have been good to know what the 'tour' was for, or if it was more just an exercise.
Clearly the NMED and the KAFB people wanted a publicity show, to show how transparent they are, to show how sincere and effective they are in cleaning up fuel that should have never leaked, or been leaked (or spilled).
One 'expert' spent a lot of time talking about how he used to see people smoking around gas pumps when he was young.  He speculated that those fueling planes, nuclear bombers, jet fighters in the fifties probably smoked as they filled up the tanks.  The idea was to suggest how casual things were 'back then'; hence the possible reasons for leaks and spills.
I take exception.  I lived 'back then'.  Nobody at any gas station I went to ever smoked.  Security was tight in the fifties.  Nuclear crews did not mess around.  Fuel was valuable, not something to waste.  Fuel trucks had measurement gauges, that sort of thing.
The way someone checked on how much gasoline was sold or aviation fuel was used was with a long stick.  One stuck the straight stick (really a narrow four-sided pole) in through the top of the tank until it hit bottom.  The top edge of the fuel left a mark, like an automobile dipstick does today.  Simple math, based on knowing the size and configuration of the tank revealed, at any moment, how much fuel there was (on hand – in the tank).  By comparing the measurements with the fuel truck (or tanker car) invoices one could almost instantly detect a leak, a leaking tank, or a  corrupt contractor lying about the amount of fuel delivered.  If fuel went missing and it wasn't corruption or a leak, it was pilferage, if not full scale theft.  It was a security issue, a court-martial issue.
It is easy to find a list of all the base commanders that Kirtland ever had.  It would be easy to determine who was in charge of fuel, and fueling, and when.  Somebody either did their job, or didn't.  It is really quite simple.  It is also quite clear that someone else clearly did not do their job of holding responsible people responsible for irresponsibility.  The price of that is the cost of cleaning up Kirtland, meaning the plume, today.  But, I keep thinking about the lax security involved with my tour.  When will anything change?
Original post on October 25, 2015 @ 00:01 UTC.
A Kirtland Air Force Base (KAFB) fuel leak, from a USAF aircraft fueling location, believed to have been seeping into the ground for decades before it was discovered in 1999, has created an underground plume of pollution and contaminated groundwater that has spread across Kirtland Air Force Base and into residential areas of Albuquerque near Gibson Avenue to an area bordered by San Pedro Drive on the west, Kathryn Avenue on the north, and Louisiana Boulevard on the east.
Cleanup of the Kirtland Air Force Base fuel spill, which has already cost taxpayers $100 million, may cost $125 million more, the United States Air Force's lead scientist on the project said.  The implication is that a ¼ of a billion dollar final cost, or greater, will probably be certain.
During a July 2015 public meeting in Albuquerque, New Mexico, ADRIA BODOUR, a civilian with the Air Force Civil Engineer Center in San Antonio, Texas, said the cleanup project had already cost $99 million, $9 million spent between 2000 and 2010 and $90 million between 2010 and July's meeting.  The project involves the drilling of wells, the construction of systems for removing contaminants from soil, filtering contaminants out of groundwater, and extensive data collection and analysis.
BODOUR is still in the process of nailing down a solid "cost to completion" estimate for the project.  "I will have a figure I am more confident in by January," BODOUR said Saturday during a public tour of cleanup-project sites on and near Kirtland Air Force Base (KAFB).  "But I think a conservative high estimate is $125 million more."
BODOUR said it will take time as well as money to complete the cleanup job.  "Do I think we can go back to the way it was before?  Yeah, I do.  Do I think it is going to happen tomorrow?  No. We are probably looking at another 20 years of work."
Work has been done since July, including the drilling of two new wells – one at California and Gibson SE, the other at Georgia and Anderson SE, wells that will extract contaminated groundwater and feed it to a filtering system for cleaning, eventually providing irrigation water for the Kirtland Officers Golf Course located in a remote section on the military base.
DENNIS McQUILLAN, [Chief Scientist] with the New Mexico Environment Department (NMED), said the two new extraction wells should be up and running by the end of the year.  The new wells join the first extraction well, which is in a church parking lot at 6200 Gibson SE and started pulling contaminated water out of the ground in June of 2015.
The greatest concern has been that the leak would degrade the quality of Albuquerque drinking water taken from water wells in the Southeast Heights.  During Saturday's tour, McQUILLAN said contaminated water has not been indicated in Albuquerque municipal, Veterans Affairs, or Kirtland Air Force Base wells, in the area.  The sampling is based solely on water quality criteria selected and proscribed.
Dean Hanson/Albuquerque Journal
Temporary treatment center – Stop 2, near new building for permanent treatment center.