September 19th, 1958
________________________________________________________________________
Nevada State Appeal – Carson City, Nevada – Newspaper Article of Thursday, September 18, 1958:
Claytons Plan Open-House Party At Carson Home
Mr. and Mrs. Fred W. Clayton have announced an impromptu "hello and goodbye" open-house for 7 p.m., Friday, Sept. 19, in their home at 405 Roop St. in Carson.
Mr. Clayton, appointed transportation and industry officer with the US Operations Mission in Afghanistan, will leave Sunday for his new assignment.  He arrived in Carson Wednesday from Washington, D.C.  Mrs. Clayton will remain in Carson until next summer.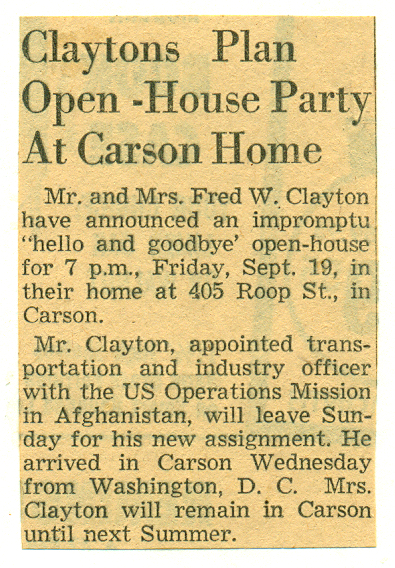 Note:  The last sentence in the article above reflected the anticipated plans at the time.  In reality Mrs. Clayton (Lloydine Clayton) left Carson City for Afghanistan on April 1, 1959.  The two sons of Fred & Lloydine Clayton living with Lloydine in Carson City at the time left for Afghanistan with her on April the first.  Kenneth Edward Clayton, a Senior at Carson High School, age 17, was granted an early graduation by Carson City Superintendent of Schools Albert Seeliger.   Donald Clayton, age 10 and in 5th grade, would complete his fifth grade year in school in Kabul, Afghanistan.  Fred & Lloydine Clayton's third son, Frederick Martin Clayton, also a graduate of Carson High School was in the United States Navy at this time, serving aboard the U.S. aircraft carrier the U.S.S. Randolph.
Clayton Family Document from the Donald Clayton collection – This image is contributed to the Public Domain under the parameters of Qala Bist Blue.
2010.06.16